Braskem launches Evance, its new line of high-performance resins
The brand offers superior soft touch, higher productivity, lighter weight and versatile applications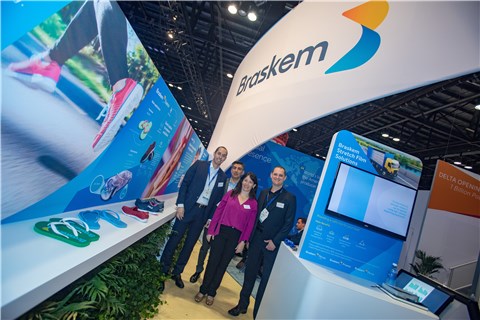 Attentive to the industry's competitiveness and the market's demands, Braskem has just launched a new family of modified EVA resins (ethylene vinyl acetate copolymer). The Braskem Evance line is a breakthrough solution of innovative resins that offer high-performance and advanced customization to each type of application. The new resin can be used by the footwear, automotive, construction, transportation, sporting goods, wire and cable and other industries.
"Braskem's role goes from the resin's creation to creating a compound that can meet the technical requirements of various applications to serve the wide range of needs of the rubber and elastomers market, taking benefits directly to converters, brands and consumers," said Claudia Arruda, Braskem's Sales Director.
Its characteristics make the modified EVA more competitive than other elastomers and some types of rubbers. To ensure comfort, which is a key requirement of the footwear industry, the material has a soft touch, is lightweight and provides better adherence of the sole with the ground. In the automotive and construction industries, it can lighten the weight of certain applications and reduce the final cost of solutions.
"With Braskem Evance, we have the potential to reach industries that use elastomers and rubber as raw materials and to create new opportunities," said Claudia.
The launch of Braskem Evance brings a simpler production process that consumes less raw materials with performance superior to that of the resins currently on the market. It also offers greater flexibility, lightness, strength, comfort and a rubbery touch.
About Braskem
With a human-oriented global vision of the future, the 8,000 Team Members of Braskem strive every day to improve people's lives by creating sustainable solutions in chemistry and plastics. Braskem is the largest resin producer in the Americas, with annual production of 20 million tons, including chemical products and basic petrochemicals, and sales of R$55 billion in 2016. Braskem exports to clients in approximately 100 countries and operates 41 industrial units, which are located in Brazil, United States, Germany and Mexico, the latter in partnership with the Mexican company Idesa.