Braskem honored at the Whow! Festival de Inovação in São Paulo
Braskem is one of five companies that most engage with startups and considered the most innovative in the chemical industry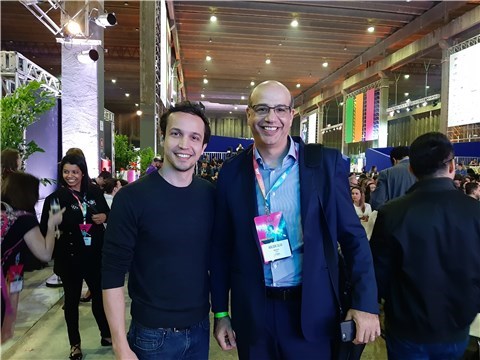 On July 23, Braskem was honored as the most innovative company, winning two awards at the third edition of the Whow! Festival de Inovação , held at the ARCA space in São Paulo. The three-day event, organized in partnership with 100 Open Startups, is a platform that aims to connect major companies with technology startups in the innovation ecosystem. On July 23, Braskem was honored by the platform, which annually publishes a ranking of the 100 startups and 100 companies most attractive for the market based on partnerships. Braskem was ranked in the TOP 5, considered one of the five companies that most engaged with startups.
"This is a recognition of the efforts made by our teams, such as Digital, Labs, Corporate Innovation & Technology (I&T) and business about connecting with startups. It also strengthens our innovative culture and the important role we have to foster the innovation ecosystem in Brazil. Working with startups beyond the benefit of their solutions provides the opportunity of learning with them in order to be faster and more efficient, and of being entrepreneurs and innovators", said Otto Ricci, Digital Portfolio manager who represented Braskem at the ranking announcement.
The award is a result of Braskem's participation in the Open Innovation Week held in February this year, during which 15 of our team members launched challenges about internally identified issues at the Innovation Journeys led by the Braskem Digital Center. During the event, startups presented digital solutions for our challenges and 12 potential suppliers were pre-selected.
Also at this festival, the second edition of the Whow! de Inovação Awards were held, which elected Braskem as the most innovative company in the Chemical Industry. The study, conducted by Centro de Inteligência Padrão (CIP) with support from Stilingue , aims to identify and honor companies that consistently innovate in developing products, services and ideas for the benefit of the economy and society.
"Innovation is part of Braskem's business strategy. We are alert to the changes and demands of society, and we believe that thinking beyond the obvious and anticipating trends are transformational actions that enable the world and the company to evolve faster. Our partnership with Haldor Topsoe is one such example, in which we use sugar as raw material to produce monoethylene glycol (MEG), one of the main components of PET. We are happy with this award and want to continue developing solutions and technologies that maintain us as the most innovative company in the sector," says Adilson da Silva, global manager of Innovation Management, who received the award at the event.
These honors underline Braskem's commitment to constantly seek innovative solutions to improve people's lives in a sustainable and responsible manner.
Learn more about the Festival here .
For more information related to press, please contact::
CDN Communication
Fernando Rubino (55 11) 3643-2991 - fernando.rubino@cdn.com.br
Jessyca Trovão - (55 11) 3643-2769 - jessyca.trovao@cdn.com.br
Fábio Souza - (55 11) 3643-2813 - fabio.souza@cdn.com.br