Braskem launches campaign inspired by parathletics
The official sponsor of the Brazilian Parathletics Team, the brand brings together some of the best athletes in the world and gives the category its well-deserved recognition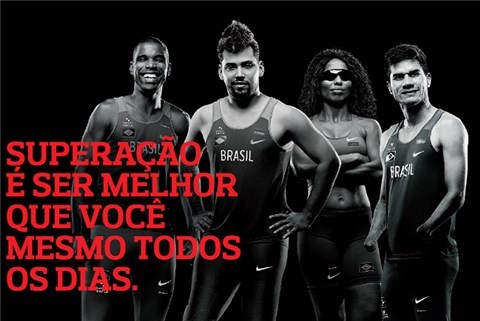 Braskem launched today the institutional campaign Parathletes 2016, highlighting the parathletes' overcoming of challenges through sports. The largest petrochemical company in the Americas has been an official sponsor of the Brazilian Parathletics team since September 2015, reinforcing its purpose of improving people's lives through chemistry and plastics.
Created by Africa Zero, the campaign has two films with inspirational and impactful stories that bring to the spotlight great examples of determination: Petrúcio Ferreira, Claudiney dos Santos, Yohansson, Parré, Veronica Hipólito, Silvânia Costa, and Alan Fonteles - medalists in major world competitions.
"A centimeter is not only a unit of measurement. It is not measured with a ruler or a tape. One centimeter can fit all your effort, everything you gave up, the days you woke up earlier, the day you came home later. One centimeter can fit all that you have done more," says the voiceover in the videos. A clear example is Silvânia Costa de Oliveira (28), who received the Best Athlete of the Year award by the Brazilian Paralympic Committee late last year. The parathlete is just one centimeter away from the world record. Finally, the video says, "one centimeter seems little, but it is enough space for you to write your story," and Braskem is helping parathletes write theirs.
The second film features Alan Fonteles (24), a Paralympic and world track & field champion and world record holder, in which he competes against himself in a track & field competition. The main message is about going beyond. "Overcoming challenges means being better than yourself every day. That is why Braskem sponsors Brazilian athletes," concluded the voiceover.
In Brazilian parathletics, plastic has a practical application, as it is present in the composition of the prosthesis, making them lighter and better adapted to the legs of athletes while improving performance and comfort.
Technical Data
Title: Alan and 1cm
Agency: Africa Zero
Advertiser: Braskem S/A
Product: Institutional
Duration: Alan: 30''; 1cm: 60'' and 30''
CCO: Sergio Gordilho
Creative Director: Aaron Sutton / Marcelo Prista
Art Director: Alexandre Kazuo / Pedro Sanguiné
Writing: Lucas Ribeiro
Production/Agency: Rodrigo Ferrari / Patrícia Melito / Mariana Hermeto / Priscila Moscovich / Ian Inglez
Service: Claudio Kalim / Juliana Carvalho / Lucas Fajardo / Priscila Navarro / Lucas Rodrigues / Joe Richardson.
Media: Francisco Custódio / Eduardo Ferreira / Paulo Henrique Ferreira / Lia Fernandes
Planning: Marcia Neri / Bruna Rodriguez / Marilia Galindo
Image Production: Vetor Zero
Direction: Mateus de Paula / Nando Cohen / Coi Belluzzo
Executive Production: Alberto Lopes / Sérgio Salles / Francisco Puech
Service: Márcia Guimarães / Rubia Elias
Director of Photography: Adolpho Veloso
Editing: Rogério Alves
Post-Production: Equipe Vetor Zero
Producer/Sound: Antfood
Service/Sound: Luisa Ferreira / Lou Schmidt / Sean McGovern
Production/Sound: Pedro Botsaris / Lou Schmidt / Wilson Brown
Voiceover: Milhem Cortaz
About Braskem
Braskem is the largest manufacturer of thermoplastic resins in the Americas, with an annual output of over 20 million metric tons, including production of other basic chemicals and petrochemicals, with R$54 billion in annual revenue. With the aim of improving the lives of people, creating sustainable solutions in chemistry and plastics, Braskem is present in over 70 countries, with 8,000 members, and operates 40 industrial units located in Brazil, the United States, Germany, and Mexico - the latter in partnership with the Mexico-based company Idesa.
Braskem on social media
www.linkedin.com/company/braskem
For more information, please contact:
CDN Comunicação
Priscila Ventura - +55 11 3643-2744 - priscila.ventura@cdn.com.br
Ana Beatriz Paschoal - +55 11 3643-2737 - anabeatriz.paschoal@cdn.com.br
Priscila Nishimori - +55 11 3643-2802 - priscila.nishimori@cdn.com.br
For more information, please contact:
CDN Communication
Fernando Rubino (55 11) 3643-2991 - fernando.rubino@cdn.com.br
Jessyca Trovão - (55 11) 3643-2769 - jessyca.trovao@cdn.com.br
Pedro Orlandi - (55 11) 3643-2745 - pedro.orlandi@cdn.com.br