First carbon offset naphtha cargo - and we were on board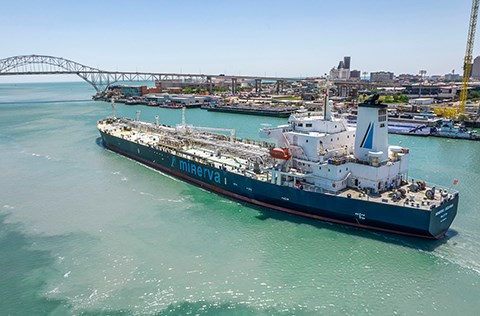 With the Circular Ecomony in focus and the goal of operating with maximum climate neutrality, we are launching various pilot projects and initiatives - always on the lookout for new opportunities, ideas and solutions. One recent project was an important milestone towards climate neutrality: Together with Trafigura, one of the world's leading independent commodity trading companies, we managed to negociate and transport 325,000 barrels of naphtha in a climate-neutral way.
This was made possible by carbon offsetting. In this process, the seller and buyer agree to reduce or offset the amount of carbon dioxide equivalent associated with their respective operations (including the extraction, production, storage and shipping of the naphtha) through a combination of emissions reductions and carbon capture projects verified by the Verified Carbon Standard and REDD+.
This pilot brings to discussion 3 additional core aspects that we focused on:
Accurate determination of emissions
From extraction and pipeline transportation to processing into naphtha and to shipping by water from Corpus Christi, Texas, to our facilities in Bahia, Brazil, all carbon dioxide equivalent emissions could be accurately calculated through the data collected by Trafigura.
Supply Chain Effectiveness
Within the above supply chain, emissions were reduced as much as possible. E.g. by chartering the most energy efficient vessel available at the time of fixing and reducing transportation speed.
Quality of carbon offsets
Carbon offsets must be traceable and of high quality. For this project, we have selected carbon offsets from nature-based projects in Indonesia, which are also independently verified by the Verified Carbon Standard.
"Braskem is committed with a carbon neutral circular economy strategy and this pilot is a step forward in this direction, contributing to offset part of the value chain emissions," said Hardi Schuck, Feedstocks, Chemicals and Global Chartering Director at Braskem. "This announcement fits with our efforts to continue to advance in innovation and to develop low carbon solutions."
"Naphtha is a vital component for the plastics industry and this carbon offset cargo, the first of its kind, demonstrates the potential to reduce upstream supply chain emissions for non-combustible plastics. We believe this could be an important additional step in the industry's efforts to minimise emissions," said Dmitri Croitor, Global Head of Naphtha and Condensates, Trafigura.