Todas as notícias
Press Releases
• May 13, 2020
Braskem Announces Launch of Additive Manufacturing Product Portfolio
Braskem launch includes polypropylene for fused filament fabrication, SLS powder bed fusion, and industrial scale pellet extrusion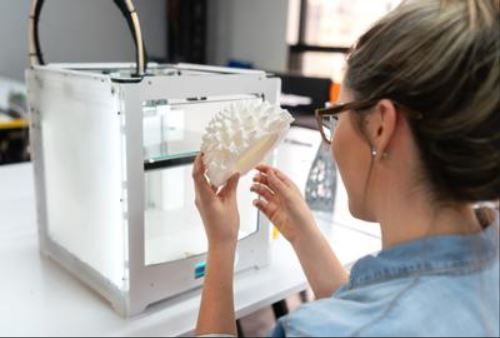 Braskem, the largest polyolefins producer in the Americas and leading producer of biopolymers in the world, announces today the expansion of its product portfolio to include innovative polyolefin-based filament, powder, and pellets for the additive manufacturing market.
Polypropylene is ideal for additive manufacturing based on its recyclability, impact strength, chemical resistance, and dimensional stability that has durable living hinge capabilities as well as a lower density than other plastics. These properties make polypropylene an attractive material for a wide range of 3D printing applications. As part of Braskem's ongoing commitment to innovation and bringing new solutions to the additive manufacturing sector, the company recently invested in a new dedicated additive manufacturing lab as part of an expansion of its Innovation & Technology (I&T) Center located in Pittsburgh, Pennsylvania.
"As a global polyolefins leader Braskem is always evolving and enhancing its portfolio to meet the needs of our clients. This expansion of our 3D printing product offering is yet another step in our evolution. We are excited to announce we have products available with countless 3D printing capabilities for the fast growing additive manufacturing market. We are excited about the capabilities our polypropylene has over other materials and we believe the variety of formats we have launched today are helping further strengthen the great potential we see for the global additive manufacturing market," commented Jason Vagnozzi, Braskem Commercial Director of Additive Manufacturing.
Polypropylene Filaments
Braskem has developed two grades of polypropylene filament for fused filament fabrication (FFF). These materials are designed to be used for both industrial and personal printing applications. They will be made available May 2020 through a distribution partnership with M Holland Company.
"These grades have been specially developed to change the perception of polypropylene in FFF printing applications. Rigorous market testing has proven our polypropylene filament has minimized warpage that can print parts comparable to PLA filament, but with improved dimensional stability, chemical resistance and impact strength," stated Fabio Lamon, Braskem Innovation & Technology Manager, Additive Manufacturing.
Polypropylene Powder for SLS
In 2019, Braskem announced its first partnership to advance the development of polypropylene powder for Selective Laser Sintering (SLS) with ALM. Selective Laser Sintering (SLS) is an additive manufacturing process that utilizes laser and thermal energy to sinter polymer powder to produce three-dimensional, solid geometries. SLS technologies are utilized in industrial applications for a broad array of manufacturing segments such as automotive, aerospace, packaging and more. Braskem and ALM will release their first generation polypropylene powder in May 2020, it will be co-marketed and sold as part of the ALM product portfolio. Details can be found on ALM's website https://alm-llc.com/products/ .
Polypropylene for Pellet Extrusion
Titan robotics and Braskem are proud to announce the launching of the first commercially available grade of polypropylene for their innovative ATLASTM industrial scale pellet extrusion system. Braskem's polypropylene for pellet extrusion will be commercially available in May 2020. Braskem is proud to have Titan Robotics as an authorized distributor of Braskem products. For additional information about Titan Robotics and Braskem materials please visit https://titan3drobotics.com/ .
For more information related to press, please contact:
CDN Communication
(11) 3643-2906
(11) 3643-2919
Related News

Imprensa
Se você é um profissional da imprensa, a Braskem tem um canal feito só pra você.
Acesse aqui
Customers
Become a Braskem customer
Braskem is one of the largest suppliers of chemical and petrochemical products in the world, recognized for its focus on sustainable development, innovation and quality.
We believe in lasting partnerships, we have a broad portfolio of products and we work together with our customers to create new practical and sustainable solutions in all markets.
Talk to our sales team