Braskem Labs, in its seventh edition, announces 20 startups selected for its acceleration program
This year, the entrepreneurship platform has the support of Johnson & Johnson Consumer Health, Grendene, Sherwin-Williams and Oxiteno as co-sponsors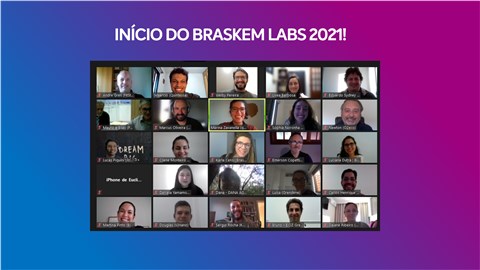 Braskem announces 20 startups selected for the next phase of the Braskem Labs program, in its seventh edition in 2021. Aiming to boost sustainable businesses created from chemicals and plastics, this year's program has partnerships with Johnson & Johnson Consumer Health, Grendene, Sherwin-Williams and Oxiteno, who joined the selection phase and will provide mentoring support to innovative projects and having positive impact on society and the environment. Quintessa, the accelerator dedicated to startups with positive socio-environmental impact, is in its third consecutive year as Braskem partner on this platform.
Following the social distancing guidelines, this year's edition took the digital format in the second year in a row. Selection of the startups to participate in Braskem Labs was held on May 11 and 13, and was attended by team members from participating companies and prominent figures from the chemicals and plastics supply chain. The program operates on two fronts: 10 projects will participate in Braskem Labs Ignition, focusing on startups that are still validating the business model; and 10 projects in Braskem Labs Scale, providing support to businesses in their traction or scale phase, boosting their growth.
Since its creation in 2015, the two programs have accelerated more than 90 startups, 96% of which are still on the market and another 34% have attracted outside investment. The next acceleration phase started last Wednesday, June 9, with a kick-off event. Throughout this year, the entrepreneurs will take part in individual and group workshops and mentoring with Braskem executives as well as by co-sponsors related to their business, engaging in group dynamics from setting a target audience to building a business model.
According to Karla Censi, Sustainable Solutions Manager at Braskem and in charge of the Braskem Labs acceleration program, the initiative highlights Braskem's role in anticipating the importance of stimulating this ecosystem and promoting its own seven-year-old startup acceleration program as a way of supporting entrepreneurship and building partnerships for innovation.

"Throughout the development program, we have noticed moves that generate positive results and enable fruition of disruptive projects, lifting them off the realm of ideas and providing opportunities to put them into practice. Thus, Braskem Labs envisages two main business fronts, not only for the present, but also aimed at future generations: innovation and sustainability", she says.
Braskem Labs is entirely equity free, that is, supporting companies do not become shareholders in the startups, which strengthens the program's position for the ecosystem and entrepreneurs. In the last six years, more than 32% of the participating companies entered into partnerships with Braskem or with co-sponsors.
Check the companies selected to take part in the 2021 Braskem Labs:

Braskem Labs Ignition
| | |
| --- | --- |
| Startup | Description |
| Circular Brain | First digital ecosystem for life cycle traceability and management of electronic equipment. A digital solutions hub for the circular economy through reverse logistics (after-sales and post-consumer), information security, reuse, recycling and final disposal of technology products. |
| BioBeads | Production and development of natural biodegradable and/or biocompatible polymer micro and nano-particles for applications in various sectors, such as cosmetics, pharmaceuticals and medicine. |
| Dana Agro | A non-toxic product line that protects and renews sugarcane, soya bean, corn, vegetables and fruit crops from environmental damages (drought, heavy rains, temperature change cycles, hail and frost). By applying technology, farmers ensure crop productivity and profitability against adverse conditions. |
| Desembala | Marketing of a full line of cleaning products available as concentrate and in water-soluble sachets. |
| FitStock | Digital platform where companies can market their excess chemical inputs for sale, buy advertised materials or other requests that are on search in the market. |
| Instituto Cidade Jardim | Green roofs and vertical gardens that provide space for local food production, helping to reduce distances between producer and consumer. |
| Minha Coleta | A solution that promotes the collection of all kinds of waste from condos by subscribing to a reverse logistics credit and reverse logistics programs for companies. |
| Mush | Biodegradable packaging and soundproofing from agribusiness waste using mycelium technology. |
| O2eco | Paraffin block with nano-minerals that activate the biostimulation process by naturally mobilizing bacteria that are already in water consuming organic matter. |
| S3nano | An additive for eliminating fungi, bacteria and viruses from product surfaces, increasing production lifetime and reducing disease transmission. |
Braskem Labs Scale
| | |
| --- | --- |
| Startup | Description |
| BioLambda | Sale of photopolymerization equipment for ambiences, air and surfaces. |
| Bioz Green | Cleaning and sanitation products free from petrochemical content. |
| Coletando | Banking inclusion by means of waste collection. This platform enables income generation by exchanging packaging for money. |
| Descarte Correto | Operating on three fronts, it accepts or buys electronic waste: (1) computer recovery and sale at accessible prices to education centers, (2) computer recovery and license sale of methodology to vocational education centers and (3) sale of raw material back to industry. |
| Fleurity | Sale of menstrual cups or reusable panties/pads, reducing risk of infection and preventing the disposal of used pads in the environment. |
| Port Roll | Replacement of one-way wood packaging with reusable plastic boxes. |
| Rochmam | Sale or lease of solvent recovery machinery. |
| TNS Nano | Nanotechnology solutions for applications in packaging, textiles, paint, foam and fibers. |
| Trashin | Reverse logistics projects and collection system. They work with education and signage at collection points, traceability through proper destination, online data system and cashback to waste generators from sales receipts. |
| YouGreen | A cooperative providing integrated waste management for big waste generators, with a complete solution for industrial, commercial and residential clients. |
For more information related to press, please contact:
CDN Communication
(11) 3643-2906
(11) 3643-2919