Braskem launches new grades for industrial buckets at Feiplastic 2019
The new solutions are designed to improve the resistance and stacking capacity of buckets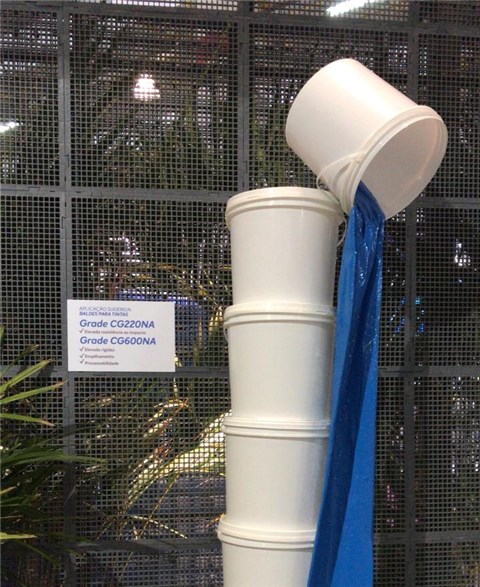 Braskem, the largest petrochemical company in the Americas and the world's leading biopolymer producer, is launching at Feiplastic 2019 , Latin America's largest plastic trade fair, two new polypropylene grades developed to improve resistance and stacking capacity in the production of industrial buckets. The event is being held through April 26, from 11 a.m. to 8 p.m., at Expo Center Norte in São Paulo city.
One of the new solutions is CG 600NA Polypropylene, a copolymer designed for injecting industrial buckets. The product offers superior stiffness and enables Braskem clients to produce buckets with walls that are thinner but more resistant, while maintaining high stacking capacity.
Another solution showcased at Braskem's booth at Feiplastic is CG 220NA Polypropylene, a type of copolymer also produced for industrial bucket applications, but with the advantage of higher impact strength for storing materials that, for example, could suffer some type of collision during transportation.
Carolina Bulhões, manager of Polypropylene Application Engineering at Braskem, notes that the new grades also can be used in food packaging that requires low transfer of odor and flavor. "The company has been investing more and more in innovation and technology to offer the most comprehensive portfolio of rigid packaging on the market," she explained.
The polypropylene solutions, which already are available in the market, are 100% recyclable and contribute to the company's actions to promote the Circular Economy . "Braskem always is concerned with developing solutions that add more value to packaging, but we're also committed to promoting sustainability in the plastics chain by ensuring a sustainable cycle from production to disposal," said Carolina Bulhões.
Braskem has outlined a series of initiatives to promote the Circular Economy, which is a new consumption concept that proposes production processes that contemplate the reduction, reuse, recovery and recycling of materials and energy. This new way of seeing production processes and habits aims to ensure greater balance and rationality in each phase of the cycle to minimize the environmental impacts of companies' and society's activities.
In addition to resins for industrial buckets, visitors also can discover other solutions recently launched by Braskem with applications in the production of big bags for packing and transporting grains, fertilizers and chemicals. The resin Maxio® PG35L, which features a low melt flow rate and an anti-UV additive, was developed especially to meet clients' demanding requirements for the mechanical properties of raffia tape and to ensure the benefits of higher productivity during extrusion.
For more information related to press, please contact::
CDN Communication
Fernando Rubino (55 11) 3643-2991 - fernando.rubino@cdn.com.br
Jessyca Trovão - (55 11) 3643-2769 - jessyca.trovao@cdn.com.br
Fábio Souza - (55 11) 3643-2813 - fabio.souza@cdn.com.br