Braskem presents intelligent packaging solutions at Interpack 2017
The Company showcases innovations and reaffirms its commitment to an intelligent packaging future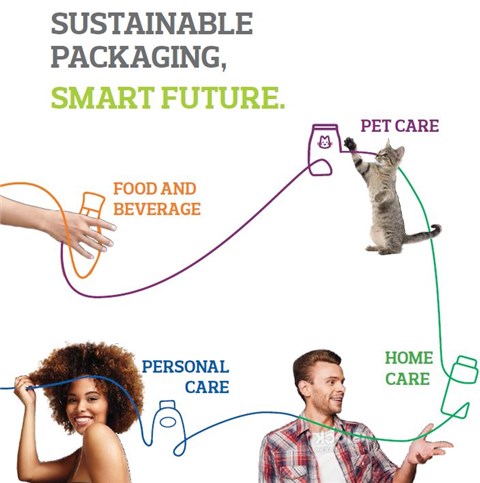 Braskem, the largest thermoplastic resins producer in the Americas, will take part in Interpack, in Düsseldorf, Germany, from May 4 to 10, at stand G15 (Hall 9). At the event, the company will present new applications for its I'm greenT Green Plastic packaging, including coffee packaging for The Netherlands' Peeze as well as packaging for the personal care segment, for Germany's Speick and Italy's L'Erbolario. It will also show Braskem Amppleo, a polypropylene resin developed for the production of high performance foams, and display research work and advances made in intelligent packaging technology.
I'm greenT Green Polyethylene is produced from sugar cane, a renewable source, and contributes to the reduction of greenhouse gas emissions in the atmosphere, as it captures carbonic gas during its productive process. A recent update of a Life-Cycle Analysis (LCA) study on Green Plastic from the Institute for Energy and Environmental Research GmbH (IFEU), focusing on the agricultural phase, points to process improvements and a reduction in environmental impact. This has allowed a higher level of carbon capture to be registered compared to previously measured results.
"Our Green Plastic is the result of a research and development study involving a variety of people and investment of around US$ 300 million. This biopolymer is currently exported to Europe, the US, Asia, Africa and South America and is used in more than 150 brands worldwide. For Braskem, taking part in the world's foremost packaging fair is an opportunity to reinforce our global presence," affirms Gustavo Sergi, head of Renewal Chemicals Business at Braskem.
High technology resin for foam production
Braskem will showcase Amppleo, a high-melt-strength polypropylene resin, during Interpack 2017. This HMS-PP resin has been developed for versatile and high-performance foam applications in the packaging, automotive and industrial markets.

The resin can withstand temperatures of up to 130°C without deforming and enables the production of foams for a wide range of applications within a broad density range, from 30 to 300 kilograms per cubic meter. It enables products to be made with a lighter weight than those made using other materials and offers excellent thermal and acoustic insulation. The material is also 100% recyclable.
Research into intelligent packaging
Another of the fair's highlights will be Braskem's advances in research into intelligent packaging, which can inform the consumer, via colour changes, of the quality and state of conservation of various products, from food to cosmetics. Braskem is developing this technology in partnership with the USA's Clemson University and Brazil's Rio Grande do Sul Federal University (UFRGS).
Partnerships which promote innovation
Also available on Braskem's stand at Interpack will be:
- Polypropylene Cups produced in partnership with packaging company Gizeh, and Green Plastic cups produced in partnership with Finnish company Stora Enso.
- Information on a partnership between Braskem and Made In Space - a US company which is a leader in the development of 3D printers for NASA - for the supply of Green Plastic for the manufacture of tools and parts for the International Space Station (ISS).

- The coffee served on the stand is produced by Peeze, the only coffee processor in The Netherlands to supply coffee which is 100% certified, and which uses packaging made with I'm greenT Green Plastic. This sustainable packaging has resulted from a partnership announced between the companies in October 2016 and which has allowed Peeze to significantly reduce its carbon footprint: for each kilo of Green Polyethylene used to package its coffee, more than 4.5 kg of CO2 are captured from the atmosphere.
About Braskem
Braskem is the largest thermoplastic resin producer in the Americas, with annual production volume of over 20 million tons, which includes other chemicals and basic petrochemicals, and annual revenue of R$54 billion. Driven by its purpose of improving people's lives and creating sustainable solutions in chemicals and plastics, Braskem operates in more than 70 countries, has around 8,000 Team Members and operates 40 industrial units in Brazil, the United States, Germany and Mexico, the latter in partnership with the Mexican company Idesa.
www.braskem.com.br/home-en
For more information, please contact:
AJA Media Solutions
Marcio Damasceno (Berlín) - damasceno@ajasolutions.co.uk - +49 179 8759154
Maria Luiza Abbott (London) - cuca@ajasolutions.co.uk - +44 772 0297199
For more information related to press, please contact:
CDN Communication
(11) 3643-2906
(11) 3643-2919