Braskem Updates the Skyline in La Porte
New Delta Polypropylene Reactors Lifted Into Place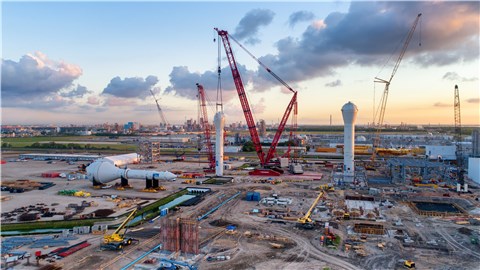 Braskem added two striking new features to the La Porte, Texas skyline in late May, when the company lifted its Delta polypropylene production line reactors into place.
"Many Team Members have been working for a long time on this project, from engineering to construction. This is one the first major milestones where you can see the plant starting to take shape and come to life," stated David Sprachman, Delta's Project Controls Leader.
Erection of the reactors is the latest sign of progress and involved a remarkable piece of equipment, a red Liebherr 13000 crane was used to stand the two reactors into place. The Liebherr crane used is one of only two of its type in the world. Prior to arriving at La Porte, the massive crane was used in the building of the Dubai Eye, the largest Ferris wheel in the world.
The reactors are the plant's heaviest equipment so the lifts were planned down to the second, including detailed engineering and wind speed calculations. Both reactors were made in South Korea and arrived in Texas via the Panama Canal.
"Watching the first reactor being lifted to its final position was a special moment," commented Kleber Sousa, Braskem's lead process engineer on the project. "Not only for the astonishing engineering involved in moving such a big piece of equipment, but also because I have been close to the reactors since the beginning, from engineering in Dresden, Germany, to final inspection in South Korea."
Watch Delta's second reactor being lifted into place in the video below: