Braskem forms partnerships for producing footwear and masks for healthcare professionals on the front lines in the fight against COVID-19
The resin donated was used to make 18,000 pairs of hospital footwear and 250,000 masks for public hospitals in Alagoas, Bahia, Rio de Janeiro, São Paulo and Tocantins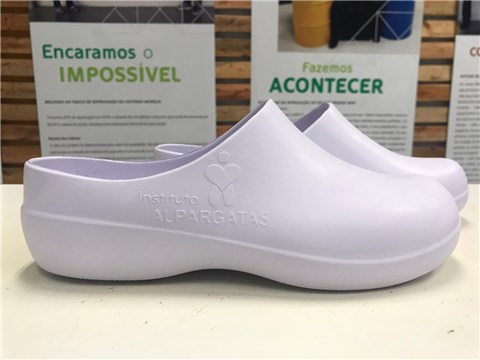 Healthcare professionals, who are playing a critical role the current crisis, are receiving reinforcements for their work on the frontlines of the war on the novel coronavirus. Braskem has joined forces with Alpargatas, a consumer goods manufacturer, to produce personal protective equipment (PPE), such as hospital footwear and masks. The footwear already are being distributed to hospitals in São Paulo (SP) while the masks are being donated to the public health systems of Alagoas, Bahia, Rio de Janeiro and Tocantins.
The footwear was made from 4.6 tons of EVA resin donated by Braskem. Meanwhile, the masks were produced by Alpargatas from nonwoven fabric (NWF) made using polypropylene (PP) resin donated by Braskem to Fitesa, another partner of the company in the actions to combat the novel coronavirus.
In the state of São Paulo, a total of 18,000 pairs of footwear were delivered to the state government, which is responsible for distributing them to hospitals. In Rio de Janeiro and Duque de Caxias, with the support of the Rio de Janeiro State Industry Federation (Firjan), more than 50,000 protective masks were distributed to the Municipal Hospital of Duque de Caxias and to the federal hospitals in Andaraí, Bonsucesso, Cardoso Fontes, Graffé Guinle, Ipanema, Lagoa and Servidores, as well as to the state health department. In Bahia, the municipal system of Camaçari received 150,000 masks. To the public health system of Tocantins, the action donated over 10,000 masks.
In Maceió, the capital of Alagoas, 40,000 masks were donated, with 20,000 going to the local and state health departments. Some of these volumes will go to health professionals working in the Triage Center inaugurated in April this year by Braskem with the support of the Alagoas state government, whose goal is to lighten the burden on the public health system during the COVID-19 crisis. The location is used to assist patients with flu symptoms.
The hospitals benefited were chosen by the state and municipal health departments of the respective regions. "We are mobilizing various partners and other members of our value chain to find fast, safe and efficient alternatives that can help Brazil get through this challenging period. We are engaged in a series of initiatives to support hospitals and communities near our industrial units across the country, and Alpargatas and Fitesa are essential allies in this movement. The moment is one of unity and demonstrates, in practice, how much our sector can help society, especially in the area of healthcare," said Edison Terra, Braskem's Olefins and Polyolefins for South America.
"We believe that the path for surmounting the humanitarian crisis we are experiencing right now is to work on joining forces with other companies, community representatives and aid organizations. Empathy and solidarity make us stronger to combat the coronavirus and its effects," said Roberto Funari, CEO of Alpargatas.
"Donations jointly with partners reinforce the importance of collective awareness in a wide array of segments for getting through this delicate moment for world health. We're very pleased to be able to supply materials with the necessary technical requirements to combat the pandemic, and we've made this a top priority in our operation," added Silverio Baranzano, CEO of Fitesa.
Braskem's actions to support healthcare professionals during COVID-19
In addition to the recent action with Alpargatas, Braskem has donated more than 370 tons of plastic resins to produce packaging for 750,000 liters of alcohol in liquid and gel and to make 500,000 squeeze wash bottles used in hospitals for dispensing alcohol liquid or gel. Part of the resin also was used by Fitesa, Braskem's partner, to produce nonwoven fabric (NWF) used to make more than 60 million masks and gowns. All items were donated to hospitals in the states of Alagoas, Bahia, Ceará, Pernambuco, Rio de Janeiro, Rio Grande do Sul, Santa Catarina and São Paulo.
For the hospitals, Braskem also donated 10,000 boxes of hypochlorite for dilution or use as bleach and over 150,000 plastic trash bags for medical waste. The company also is donating 90 tons of liquefied petroleum gas (LGP) to two field hospitals built in the city of São Paulo, one in the Anhembi Events Center in the city's northern zone, and the other in the Ibirapuera Gym Complex in the southern zone. The gas is being used to cook more than 3,000 meals a day for patients and healthcare professionals, to heat showers and to run laundry facilities.
In Maceió, Alagoas, where the company also has an industrial unit, a joint action with the state government enabled the construction of a Triage Center with 30 rooms for medical assistance, X-ray rooms, lab exams and medication rooms. The healthcare professionals give care to patients with flu symptoms, and the initiative prevents agglomerations of people in the State General Hospital, helping to unburden the city's public system.
Braskem's actions to support communities in the fight against the novel coronavirus
Supporting the communities located near its units always has been one of Braskem's main pillars. Right now, the initiatives focus on directly donating essential items given the crisis. For workers at recycling cooperatives, the company will donate food staples for three months. More than 2,000 households with some 15,000 people will be benefitted by this action.
From late April to early May, Braskem also donated more than 50,000 cleaning kits with products such as detergent, bleach, alcohol gel, bar soap and an informative leaflet with tips on COVID-19 prevention. The initiative benefited some 200,000 people in the states of Alagoas, Bahia, Ceará, Pernambuco, Rio de Janeiro, Rio Grande do Sul, Santa Catarina and São Paulo.
For more information about Braskem's actions to help Brazil combat the novel coronavirus, visit www.braskem.com.br/covid-19 .
For more information related to press, please contact:
CDN Communication
(11) 3643-2906
(11) 3643-2919