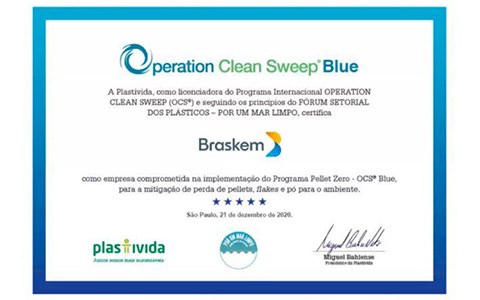 Pellet production and transportation - the millimetric thermoplastic resin granules used in manufacturing countless of plastic products - involve a huge industrial and logistics challenge.
As pellets get accidentally dispersed in factories or during a loading and unloading operation, they can end up in rivers and seas through water flow and drainage.
Braskem teams have been strongly engaged in reversing this situation. Initiatives implemented with good performance led to Braskem's OCS Blue certification by the global Operation Clean Sweep® campaign.
"Pellet losses are one of the major topics on the agenda of sustainable development and circular economy involving the plastics supply chain. At Braskem, we are focused on conducting consistent actions to reduce these losses and bring them to zero," explains Edison Terra, Vice-President Olefins and Polyolefins, Braskem South America.
This recognition indicates that Braskem is at the highest level in a group of global companies in the fight to prevent plastic waste reaching the environment. The certification was awarded to Braskem in Brazil by Plastivida, the campaign licensor in the country.
Besides Brazil, OCS Blue certification was recently awarded to Braskem in the United States and Braskem Idesa in Mexico. The certification process is underway in the other countries where we have industrial operations.

OTHER MOVEMENTS WE ARE PART OF
Besides Operation Clean Sweep® , Braskem also takes part of the global initiative Alliance to End Plastic Waste (AEPW) and of the CFO Taskforce , a taskforce proposed by the UN Global Compact involving financial leaders of large companies.