We are finalist at the Plastics Recycling Awards Europe 2021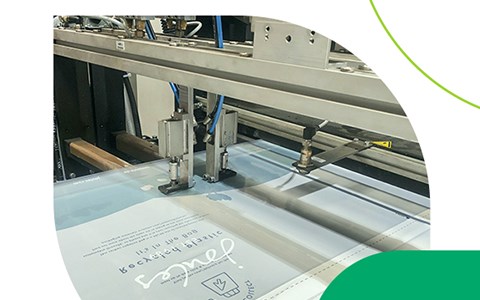 From November 4th to 5th this year, Europe's plastics recycling industry will once again be looking towards Amsterdam. This is because, as part of the Plastics Recycling Show (PRS), the Plastics Recycling Awards Europe 2021 will be presented there - with us as one of the finalists in the plastic packaging product category. Together with the packaging professionals from DUO and the British clothing company Joules, we as the global pioneers in circular plastic solutions were able to impress with a packaging solution consisting of 50% bio-based PE and 50% recycled material (PCR), which was designed and implemented for specific sales processes at Joules - the Joules Click & Collect Bag.
With COVID-19 there were not only restrictions for retailers to adapt to, but also a new shopping behavior on the part of customers. Goods were ordered online and then picked up in or at the store, with minimal contact with sales associates and other customers. The Joules Click & Collect bag made by Braskem and DUO was designed to allow staff to easily find the right package for the customer and to allow customers to see the product through a clear plastic window without opening the bag, reducing the overall number of contact points for staff and customers.
Additionally, since this bag was consequently designed to be more of a disposable product, it was very important to make it fully recyclable and circular. For this reason, the production process reuses polyethylene produced as part of Joules' business processes. This recycled granulate is mixed with our I'm greenTM PE, which is made from sugarcane. In addition to improving the mechanical properties of the bag, the negative carbon footprint of I'm greenTM PE allows the emissions from the recycling process to be offset at the same time. The final product is therefore completely free of petrochemical virgin resin with a neutral carbon footprint.
The Joules Click & Collect Bag is not only interesting in a circular way because of the materials used, but also because of the entire creation process behind it. As one of the first projects of its kind, it is proof that the performance of recycled material is equal to that of virgin material - and more than deserves its first prize. The winners of the Plastics Recycling Awards Europe 2021 will be announced on November 5th during the second day of the Plastics Recycling Show Europe, which takes place at RAI Amsterdam. So stay tuned!