We won Rethink Award 2021 with I'm greenTM EVA!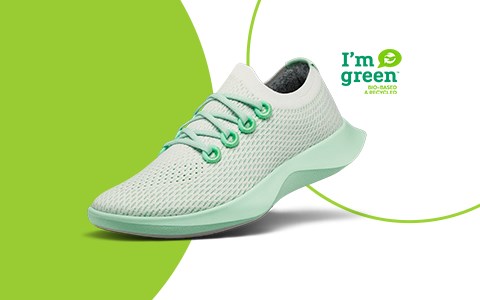 Every year the Rethink Award recognizes the most innovative and distinctive plastic or rubber product. That's why we can be very proud to receive the 2021 prize for I'm greenTM EVA, our pioneering sustainable material for the footwear sector.
The NRK and PlasticsEurope Nederland prize is awarded to plastic or rubber products or materials on the market which are circular and sustainable, benefitting society in the context of the 5 Rs: refuse, reduce, reuse, repurpose, recycle. The prize was voted on by the public which means it is appreciated by consumers.
Braskem's I'm greenTM EVA, a rubber substitute, is made from up to 80% of a renewable source: Brazilian sugarcane. It's used, among other segments, in the production of footwear by international sporting goods manufacturers such as Allbirds and Puma.
Everyone at Braskem can be incredibly proud of this latest award, which was announced at a ceremony on June 23rd in Amsterdam. Out of the 12 finalists, Braskem was selected as the winner of the Public Award with 29% of the votes. Not only is this a vindication of the material itself but also of the company's decision to expand its portfolio of innovative renewable materials. Rethinking plastics takes courage, know-how and good partnerships - Braskem is committed to a sustainable net zero circular economy and pleased that we are not alone in this journey.
Consumer demand for sustainable products ultimately makes the difference in producers' decisions to use this sustainable raw material in products. The Rethink Award is a terrific success for us and our development of bio-based plastics. It proves that our products meet the zeitgeist, generate more and more attention and that we can already offer answers to the demands of customers and end users today.
As you know, our I'm greenTM EVA was already released in 2018 together with US footwear manufacturer Allbirds in the form of the SweetFoam® footwear collection in the United States, New Zealand, Australia and Canada and is attracting more and more interest in the industry, including currently from sporting goods manufacturer PUMA. For good reason, because I'm greenTM EVA, despite being made from the renewable raw material sugar cane, offers the same flexibility, lightness and resistance as conventional EVA and can also be recycled/reused in the same way. In addition, I'm greenTM EVA has a negative carbon footprint: The sugarcane captures CO2 through photosynthesis and stores it during the growth phase. The resulting I'm greenTM EVA thus has an unbeatable eco-balance of -2.1kg of CO2 per ton produced, so carbon is saved, not added. This, in turn, reduces the carbon footprint of the products made from it in a sustainable way, of course.