Braskem commissions new North American UTEC® UHMWPE plant
La Porte, Texas UTEC plant is scheduled for startup in 2016 securing Braskem's position as one of the largest producers of UHMWPE worldwide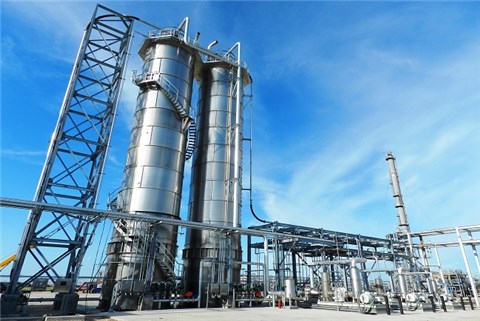 Braskem (BM&FBOVESPA: BRKM3, BRKM5 and BRKM6; NYSE: BAK; LATIBEX: XBRK), the largest thermoplastics resins producer in the Americas, today announces the commissioning of its new UTEC Ultra High Molecular Weight Polyethylene (UHMWPE) production plant at its La Porte, Texas site. Braskem sells high performance UHMWPE under the trade name UTEC, developed and produced through Braskem's proprietary technologies. The new UTEC plant is scheduled for startup by the end of 2016 and reflects another milestone investment in Braskem's North American growth strategy. The U.S. UTEC plant will further Braskem's position as one of the largest producers of UHMWPE worldwide and complements the company's existing UTEC product line in Brazil.
"Our new UTEC UHMWPE plant in Texas is another step in bringing Braskem closer to our clients with advanced engineered polymers as well as creating additional high-quality engineering and production jobs in La Porte. The UTEC plant start-up scheduled for later this year will increase Braskem's UHMWPE capacity and market share as well as enable us to better serve our existing clients globally. The new plant combined with Braskem's dedicated U.S. Innovation and Technology Center will make Braskem an even more reliable partner for its clients and play a key role in developing new applications for additional market segments," said Christopher Gee, Braskem Global Business Director for UTEC.
Earlier this year, Braskem enhanced its research and development capabilities for UTEC at the company's Innovation and Technology Center in Pittsburgh, Pennsylvania. These new capabilities enable Braskem to expand its technical leadership in UHMWPE by providing instrumentation for testing, application development, and new product research.
In commissioning the new UTEC plant, Braskem is now completing the necessary steps to ensure a safe and successful startup. During this phase, the company is concluding functional tests and process control tests to verify performance of controls and integrated safety systems.
UTEC is an engineered polymer with excellent mechanical properties, such as high abrasion resistance, impact strength and low coefficient of friction. It is a self-lubricating, high-strength, lightweight machinable product used for semi-finished goods. UTEC is eight times lighter than steel and lasts ten times longer than HDPE. The product is used in a vast array of applications in the following industries: automotive and transportation, electronics, fibers and textiles, industrial and heavy equipment, material handling, oil and gas, pipe and mining, porous plastics, and recreation and consumer.
For additional information on Braskem's UTEC UHMWPE engineered polymer, product benefits and applications and please visit www.braskem.com/utec.
ABOUT BRASKEM
Braskem is one of the world's leading plastics and chemical companies with 40 industrial plants in Brazil, the United States, Germany and Mexico - the company's newest industrial complex is a joint venture with Idesa, which represents a $5.2 billion investment.
Braskem is the largest producer of thermoplastic resins in the Americas and the leading producer of biopolymers in the world, creating more environmental-friendly, intelligent and sustainable solutions through chemicals and plastics. Known for innovative solutions such as I'm green PolyethyleneT made from renewable sugarcane and UTEC®, the company's own trademarked Ultra High Molecular Weight Polyethylene for high-performance applications, Braskem's products and technologies enable the automotive, packaging, healthcare, and construction industries to produce goods that enhance quality of life for people around the world.
Braskem America is a wholly owned subsidiary of Braskem S.A. headquartered in Philadelphia. The company is the leading producer of polypropylene in the United States, with five production plants located in Texas, Pennsylvania and West Virginia, and a Technology and Innovation Center in Pittsburgh. For more information, visit www.braskem.com.
This press release contains projections and other forward-looking statements (within the meaning of the Private Securities Litigation Reform Act of 1995, Section 27A of the Securities Act of 1933, as amended, and Section 21E of the Securities Exchange Act of 1934, as amended) regarding future events. These statements reflect Braskem's current beliefs and expectations with respect to Braskem's business, the economy and other future conditions and are based on assumptions, subject to risk and uncertainties and are subject to change at any time. Actual events or results may differ materially from those contained in such forward-looking statements. Important factors that could cause actual results to differ materially from the forward-looking statements contained herein include, without limitation: (i) the contraction or lack of growth in the market segments in which Braskem competes and in which UTEC products are sold (ii) unexpected delays in commissioning, (iii) increased competition from imports, (iv) inability to anticipate future market trends and the future needs of Braskem's customers, (v) the impact of natural disasters on Braskem La Porte facility and its suppliers and (vi) other factors detailed in documents Braskem files from time to time with the Securities and Exchange Commission. Forward-looking statements in this release are made pursuant to the safe harbor provisions contained in the Private Securities Litigation Reform Act of 1995.