All News
Press Releases
• April 27, 2021
Braskem Launches Carbon Fiber Reinforced Polypropylene Filament for Additive Manufacturing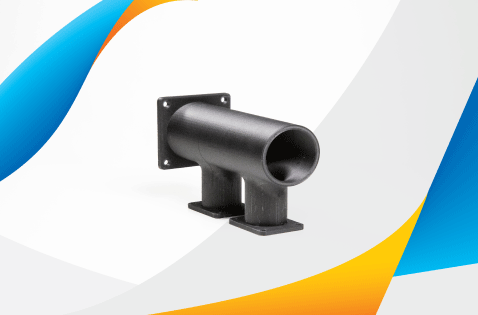 Braskem (B3: BRKM3, BRKM5 and BRKM6; NYSE: BAK; LATIBEX: XBRK) ("Company"), the largest polyolefins producer in the Americas and leading producer of biopolymers in the world, announces today the latest expansion of its 3D printing product portfolio to include new, innovative carbon fiber reinforced polypropylene filament for 3D printing ("CF-PP") ("FL900PP-CF") offering superior mechanical and thermal properties as well as low warpage. Braskem's carbon fiber reinforced polypropylene filament allows users to 3D print lightweight and exceptionally rigid parts for high-end applications, such as automotive, aerospace, nautical, sporting goods, and much more. Best of all FL00PP-CF is made using 100% recycled carbon fiber with the same performance you would expect from virgin carbon fiber.
Jason Vagnozzi, Braskem Commercial Director of Additive Manufacturing, stated, "As the U.S. polypropylene market leader, we are proud to launch our new carbon fiber reinforced polypropylene filament for 3D printing, offering our industrial clients as well as consumers unparalleled new production capabilities for high strength and light weight additive manufacturing. Regardless if you are a start-up, university, equipment manufacturer, converter, compounder, or brand owner, Braskem's carbon fiber reinforced polypropylene filament is breaking new ground in terms of pushing the boundaries of 3D printing design and engineering possibilities. This latest 3D printing product launch reflects Braskem's ongoing commitment to bringing powerful new solutions to the 3D printing sector, all leveraging our dedicated additive manufacturing lab within Braskem's North American Innovation & Technology (I&T) Center located in Pittsburgh, Pennsylvania."
Braskem Polypropylene 3D Printing Filament Reinforced with Carbon Fiber - Key Attributes:
100% recycled carbon fiber content

High stiffness and strength - 6x stronger than traditional PP filaments

Optimized for high resolution printing

Lightweight / low density

Excellent chemical resistance

Low shrinkage / warpage

Highly water resistant - does not absorb moisture, no drying needed
Braskem's new carbon fiber reinforced polypropylene filament spools are designed to be used for both industrial as well as personal 3D printing applications making them a great choice for rapid prototyping, custom product design, lightweighting, optimizing geometries, and designing spare parts. Braskem's carbon fiber reinforced polypropylene filaments are available in both 1.75 mm and 2.85 mm diameters to fit a wide range of 3D printer applications and are available for online purchase through M. Holland's eStore at www.mholland3d.com/products/braskem-cf-pp .
For more information about Braskem's additive manufacturing portfolio including filaments, powders for fused filament fabrication (FFF), Selective Laser Sintering (SLS), and high-speed pellet extrusion, please visit https://www.braskem.com/usa/3d-printing .
Related News