Delaware County Families Receive $183,000 in Scholarship Assistance through Pennsylvania's EITC Program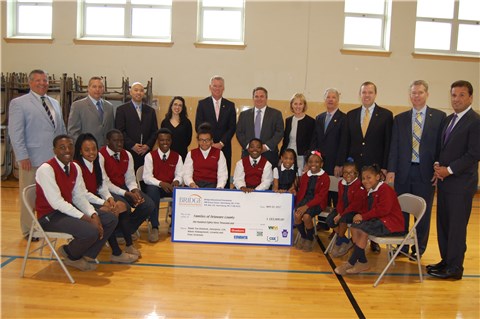 Chester, PA - (April 20, 2017) -Bridge Educational Foundation and its donors, Braskem, CSX Transportation, Covanta, Enterprise Holdings, Penn Terminals and Waste Management gathered today to announce scholarships for families of Delaware County at an event hosted by Drexel Neumann Academy.
These businesses participate in Pennsylvania's Educational Improvement Tax Credit (EITC) Program by working with the Bridge Educational Foundation. A total of $183,000 of scholarships were announced today.
Bridge raises funds through the landmark educational tax credit program. The EITC Program affords businesses the chance to enrich the lives of Pennsylvania children by improving the quality of their education and better preparing them for a future in the workplace.
The EITC Program is simple: businesses receive tax credits for donations made to Commonwealth-approved, non-profit scholarship organizations, like Bridge, and families in need are able to choose the best education for their children. Additional information about the educational tax credits may be found at www.bridgeedu.org and www.newpa.com .
Bridge Educational Foundation provides a bridge between these Pennsylvania's employers and students. And, in so doing, the Foundation has made a difference in the lives of more than 15,000 Pennsylvania families with students in over 500 schools spread out across 61 counties.
School officials and families attended the event to thank the people involved with the EITC Program. Approved students attending the host school, Cardinal O'Hara HS, The Episcopal Academy, Holy Family Regional School, St. Cornelius School, St. Cyril of Alexandria School, St. James Regional Catholic School, St. James Alumni Association, Valley Forge Military Academy and Widener University Child Development Center have each received a portion of these tuition scholarships.
State Senators Tom Killion and Tom McGarrigle joined State Representatives Alex Charlton, Jamie Santora and Chris Quinn at the school to show their support for Pennsylvania's EITC Program.
Conway Yee, Marcus Hook Plant Leader for Braskem America, commented, "Braskem is proud to join together with our business neighbors to support education in Delaware County through the Bridge Educational Foundation. We believe in serving the communities where we operate. This donation will help the community's younger members to receive enhanced educational opportunities to best position them for life-long success. We are honored to support our future leaders."
The scholarship donations announced today are part of the K-12 and Pre-K EITC Programs. The K-12 EITC tuition program provides companies with a 75 percent tax credit - 90 percent for a two-year commitment - for funds donated to approved, non-profit scholarship or educational improvement organizations businesses may donate up to $750,000 per year though the K-12 program. The Pre-K EITC initiative offers businesses up to $200,000 in tax credits annually at a 90% tax credit for funds donated to an approved, non-profit scholarship organization like the Bridge Educational Foundation.
For information on how to request scholarship funding please visit www.bridgeedu.org
and click on the scholarship tab.
Bridge Educational Foundation is a scholarship organization recognized as an approved 501(c)3 not-for-profit organization and was established under the Educational Improvement Tax Credit program of the Commonwealth of Pennsylvania. The Foundation's core mission is to partner families and schools with Pennsylvania businesses to provide scholarship opportunities throughout Pennsylvania. Based in Harrisburg, PA, Bridge Educational Foundation is currently one of the largest and most innovative scholarship organizations of its kind, raising $28 million to provide educational opportunities for low income families statewide. www.bridgeedu.org