Plastics News recognizes three Braskem team members as "Rising Stars"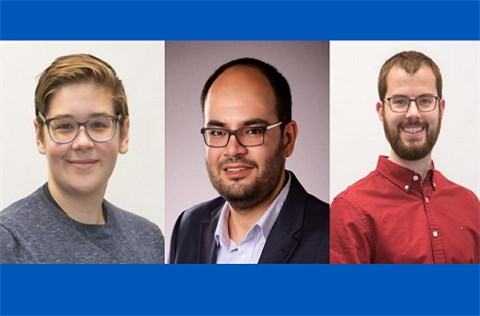 Braskem is proud to announce that Plastics News has named Cassie Gallaschun, Hadi Mohammadi, and Kevin Herrington, as "Rising Stars" of the plastics industry. This year marks the eighth consecutive year that Plastics News features talented individuals ages 35 and under on the path to becoming plastics industry leaders.
Younger generations are passionate about the world they are inheriting, so prioritizing matters including circular economy and technology are at the top of their list. The "Rising Star" program is aimed to highlight the positive things we do in plastics and encourage early career professionals to consider a career in the industry. Some of the criteria considered include: industry and public service, leadership potential, career advancement and sustainability. Learn about Braskem's "Rising Stars" below:
Cassie Gallaschun, Research Scientist/Engineer, Innovation and Technology Center, Pittsburgh
Gallaschun obtained a master's degree in chemical engineering from the University of Pittsburgh Swanson School of Engineering, and a bachelor's degree in chemical engineering with a minor in polymers engineering. Some of her advancements at Braskem include: the normalization of various heritage quality control protocols across all polypropylene manufacturing plants globally, the introduction of new analytical (DMA, AFM) methods to further the fundamental knowledge of polymers, among others. Gallaschun highlights the importance of the plastics industry expanding its efforts in diversity and inclusion, leadership qualities that are essential to the workplace, and more. To read the full article, click here .
Hadi Mohammadi, Senior Research Scientist, Innovation and Technology Center, Pittsburgh
Mohammadi graduated from Iran's Amirkabir University of Technology with a Master of Science in polymer engineering and Virginia Polytechnic Institute and State University with a Ph.D. in polymer chemistry. During his time at Braskem, he has made significant contributions to our additive manufacturing portfolio through the application of fundamental polymer science principles. Additionally, he is currently scaling up a "new to the world" ethylene-based terpolymer that has the potential to reshape the elastomer industry. Throughout the article, he mentions his interests in new technologies that could solve plastic waste issues, his motivation to leverage growth opportunities to excel his knowledge, among others. To read the full article, click here .
Kevin Herrington, Research Scientist, Innovation and Technology Center, Pittsburgh
Herrington received his bachelor's and master's degrees in chemical engineering from Lehigh University and Ph.D. in chemical engineering from Virginia Polytechnic Institute and University. Some of his notable achievements include the development and launch of Braskem's clear high-impact polypropylene thermoforming grade, and the invention of an injection moldable ultrahigh molecular weight PE that has better wear properties of conventional compression molded UHMWPE. During his interview, he touches on his interests within the plastics industry, the importance of mentorship, and advice for individuals considering a career within the industry. To read the full article, click here .
Previous Braskem "Rising Stars" include Christopher Gee , Stephanie Whitesell , and Joel Carr .