Braskem and Multinova launch first pesticide-free solution for controlling thrips in banana production
The material, which was developed with the support of UNESP, already has been tested by producers with proven effectiveness in combatting thrips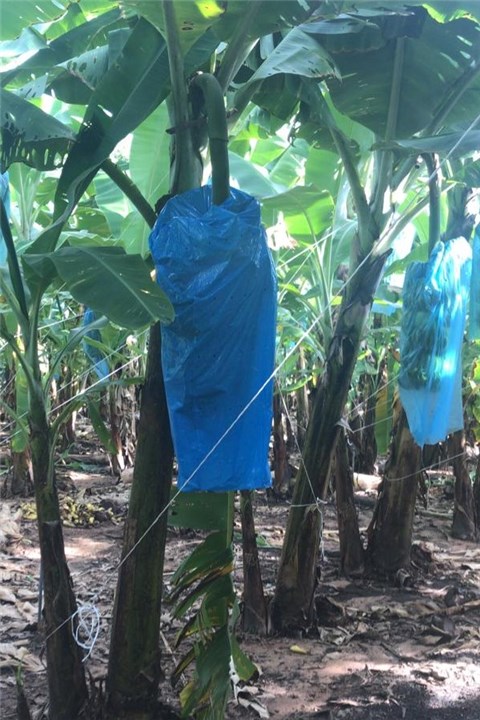 The first pesticide-free, insect-repellent solution for the Brazilian market was created from a polyethylene (PE) resin marketed by Braskem in partnership with São Paulo State University (UNESP) and Multinova, a producer of solutions in plastics. The UV resistant additive used to control the effects caused by sunlight was produced with the same wavelengths used for the insect's vision. Thrips attack primarily banana production during the hottest months of the year, which causes rough black spots on the skin that reduces the visual quality of the fruit.
The insect-repellent additive reflects away from the bags the same wavelengths used by the insect's vision. As a result, upon entering the bag, the insects can no longer see, which causes them to leave the plant/bag environment. The film's major advantage is offering producers an alternative to other solutions that use pesticides to combat this kind of pest.
The pesticide-free, insect-repellent film will be launched in the market in November, with Braskem expecting to reach production capacity of 7,000 tons per year of raw materials especially for this application. "Agribusiness is one of the most important sectors of the Brazilian economy and a key market for Braskem. So at Braskem we are working hard to develop solutions that add more value to agricultural production while increasing sustainability for the businesses of rural producers," explained Beatriz Gallucci, an agronomist and part of Braskem's Agro Platform.
The research for developing yet another solution for Braskem's Agro Platform began in 2018, with preliminary tests in the Vale do Ribeira region of São Paulo state. In 2019, with the first results in hand, the studies were expanded to farms in the states of Bahia, Ceará, Minas Gerais, São Paulo and Santa Catarina. The tests were accompanied by UNESP, which confirmed that the product offers performance on par with that of conventional treatment, which consists of plastic bags impregnated with pesticides or directly spraying pesticides on the banana bunches.
According to Juliana Domingues Lima, a professor at UNESP responsible for monitoring the tests of the insecticide-free, insect-repellant solution, safe food production and the growing adoption of production practices that are less harmful to the environment and to farm workers is being increasingly demanded by society, leading agricultural input producers, researchers and farmers also to seek innovations that meet these demands. "In addition to eliminating the use of pesticides, the solution developed by Braskem and Multinova also protects bananas from other types of physical damage caused by excess radiation," he added.
Another advantage of the insect-repellent film made from Braskem's PE is easier and faster installation, since, because it contains no pesticides, producers do not require workers specialized in handling chemical products. Consequently, the application costs are lower, representing an advantage over the other solutions in the market that contain pesticides. The plastic film is installed as soon as the banana flower starts to develop and remains in place until harvest. Because it does not contain pesticides, another advantage is that after its use and proper disposal, the material is 100% recyclable and can be transformed into another solution.
Today, Braskem's product portfolio for its Agro Platform already offers solutions in PE, polypropylene (PP) and polyvinyl chloride (PVC) that support protection during cultivation and storage, irrigation and infrastructure. Another recent initiative by the platform, which also was developed in partnership with UNESP and Multinova, is an expanded sheet combined with a PE film with a thermal additive for protecting bananas in regions where temperatures fall below 12°C, which protects against the effects of chilling to avoid physiological damage common to tropical fruit exposed to frost.
"Our role with Braskem's Agro Platform is to join forces with those working closely with rural producers to create solutions that enable farmers to increase yields while simultaneously reducing environmental impacts," said Gallucci.
Rural producers can find the pesticide-free, insect-repellent sheets on the sales channel of Multinova . The solution is ideal for small, midsized and large producers. "Bananas are an important crop in Brazil, and thrips can cause a lot of damage for producers. To accompany the challenges of banana producers for combatting this type of pest, we mobilized to find a viable solution that was low-cost, sustainable and effective for our clients," concluded Jair da Rosa, New Business Sales Manager at Multinova.
For more information related to press, please contact::
CDN Communication
Jessyca Trovão - (55 11) 3643-2769 - jessyca.trovao@cdn.com.br
Karina Alves - (55 11) 3643-2981 - karina.alves@cdn.com.br
Fábio Souza - (55 11) 3643-2813 - fabio.souza@cdn.com.br
Débora Farias - (55 21) 3626-3715 - debora.farias@cdn.com.br