Braskem Labs becomes a platform and launches challenges
Challenge Program is open and invites startups to present solutions to Braskem's internal challenges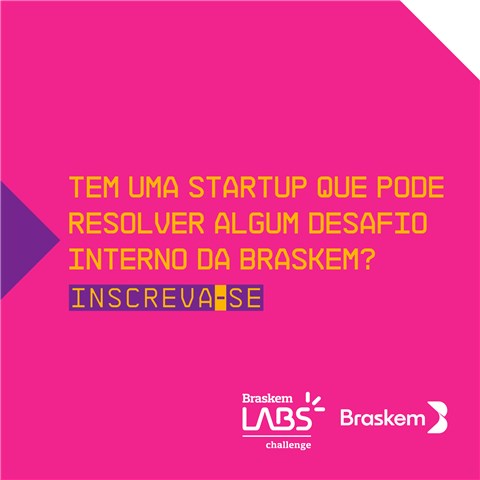 Created in 2015 as an incentive program for entrepreneurs, Braskem Labs has grown, matured and become a homonymous platform encompassing three programs to strengthen the relationship of Braskem, the largest petrochemical company in the Americas, with entrepreneurs at different stages of development.
With registrations open until October 30, Braskem Labs Challenge, one of the new programs of the platform, will be selecting startups to run a pilot, based on the challenges launched, in industrial units or administrative areas of Braskem in order to help the company improve its processes.
"This is an opportunity for entrepreneurs to test their solutions in real-life situations in an innovative and sustainable environment that allows an interaction with experienced professionals and insights that can refine their solution," said Luiz Gustavo Ortega, Sustainable Development leader at Braskem.
Startups that have a tested and validated MVP (Minimum Viable Product), or even whose product or service is already available in the market, may participate. Additionally, the solutions offered should adhere to at least one of the Sustainable Development Goals (ODS).
The 2017 edition of Braskem Labs Challenge features 10 Challenges divided between the areas of logistics and administrative solutions. After a pre-selection, the startups participate in a Demo Day with internal Braskem teams, when those that will have the opportunity to perform a pilot with the company will be selected. The startup whose pilot succeeds may become one of Braskem's suppliers. The program is promoted in partnership with the innovation consulting firm Innoscience.
The signup period is open until October 30 at www.braskemlabs.com/challenge . Learn more about the challenges below:
LOGISTICS CHALLENGES
ADMINISTRATIVE SOLUTIONS CHALLENGES
1. Load Distribution in Axles
How to detect the load distribution between truck axles?
1. Surveillance Monitoring and Control
How to manage industrial park safety equipment, with preventive maintenance scheduling and control of corrective maintenance?
2. Quality Control of Silos
How to ensure that the products arrive in perfect specificity conditions to their customers?
2. Helpdesk Solutions
How can we allow company members to open calls and interact with Braskem without being in the Braskem network?
3. Transportation Risk Management
How to reduce theft indicators and ensure the possibility of recovery of cargo?
3. Optimization of Collective Transportation Schedules
How to optimize the management of the routing of the company's collective transportation lines?
4. Greenhouse Gas Emission Control
How to measure and reduce the GHG emissions by the transportation used by the company?
4. Office Cost Reduction
How to reduce energy costs in offices?
5. Availability of the Transportation Market
How to identify the availability of transportation, considering supply, demand and future availability in different regions?
5. Parking Cost Reduction
How to fill more effectively the parking spots in the company's offices?


Other programs
The Braskem Labs platform is composed of two more programs focusing on accelerating startups and companies. They are:
Braskem Labs Scale, which represents the original program launched in 2015. It is in its third edition and focuses on empowering more mature entrepreneurs with solutions already available in the market that improve people's lives.
Braskem Labs Ignition, which accelerates startups in the validation phase of their business model or MVP (Minimum Viable Product) or in the growth phase. Made by the business accelerator ACE, which is also a partner of Braskem in Scale, it offers two programs according to the phase of development of the startup, in addition to featuring mentors and monitoring by Braskem.

About Braskem
With a global, human-oriented vision of the future, Braskem's 8,000 members strive to improve people's lives by creating sustainable solutions in chemistry and plastics. It is the largest resin producer in the Americas, with an annual output of 20 million metric tons, including basic chemicals and petrochemicals, and R$55 billion in revenue in 2016. It exports to Customers in approximately 100 countries and operates 41 industrial units, located in Brazil, the United States, Germany, and Mexico - the latter in partnership with Mexico-based company Idesa.
About Innoscience
Innoscience is a management consulting firm for corporate innovation that provides methods, knowledge and experience to make innovation happen. Innoscience supports Braskem in the operationalization of the Braskem Labs Challenge.
For more information related to press, please contact:
CDN Communication
(11) 3643-2906
(11) 3643-2919