The Brazilian Paralympics Committee and Braskem renew para athletics sponsorship
The partnership between CPB and the petrochemical company began in 2015 and, since then, results in track and field events around the world keep getting better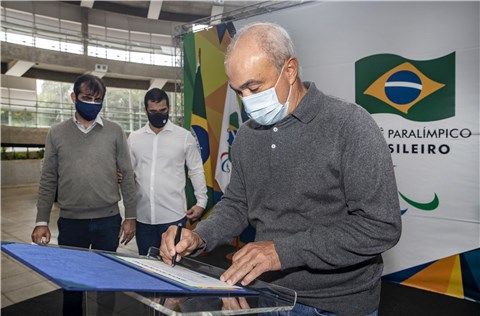 Last Monday, 17, The Brazilian Paralympics Committee (Comitê Paralímpico Brasileiro, CPB) and Braskem announced the renewal of the para athletics sponsorship live on CPB social networks. The agreement is valid through April 2022.

The ongoing partnership with Braskem will enable the development of the Brazilian para athletics team, both in domestically and internationally, with the support of actions towards initiation of high performance at the Paralympics Training Center, in São Paulo (SP) as well as in CPB Reference Centers in other regions in Brazil. In addition, sponsorships such as this one contribute to enhance actions in world-class sports science, technology, sports equipment and materials, for Brazilian athletes, ensuring better performance in all their training and in competitions.

"It is a great honor for us to have Braskem on this journey. An investment aimed at Brazilian Paralympics athletics through which much has been reaped over the years. Most definitely, more medals will come to Brazil through this vital support", stated Mizael Conrado, two-time champion in Paralympics five-a-side football (Athens 2004 and Beijing 2008) and CPB President.

According to Marcelo Arantes, Braskem Vice-President - People, Communication, Marketing and Sustainable Development, this partnership reinforces the fact that sports is and always will be an opportunity for renewal to everyone. "We at Braskem believe in the transforming power of chemicals and plastics in people's lives. We notice this aspect in athletes through the comfort and lightness that plastic resins provide in prosthetics. For that reason, we teamed up in 2015 with CPB to support Brazilian para athletics and we are very proud to continue contributing towards the development of these athletes, who represented our country so well", says the executive.

CPB and Braskem began their partnership six years ago and, since then, results in track and field events around the world have only got better. In all, 95 medals in world championships, with 30 gold. In the last edition of the competition, in November 2019, the Brazilian para athletics team achieved the unprecedented and historic second place in the overall ranking, behind only to China, with 14 gold, nine silver and 16 bronze medals.

In the Parapan American Games in 2019 in Lima, there were 82 medals, with 33 gold. And in the Rio de Janeiro 2016 Paralympic Games, the Brazilian squad was on the podium 33 times, eight of which on the highest spot.
The next challenge to the Brazilian para athletics team is the Tokyo Paralympic Games, starting on August 24. Brazil will line up with about 225 athletes for the competition, 54 of which are in the athletics team. Preparation of the athletes in this sport also had the backing of Braskem and other companies that support the team. Investments such as these enable the athletes to take part in more competitions, have access to technical equipment and specialized teams, thus contributing even further to improve their results and performance in track and field events.

For more information related to press, please contact:
CDN Communication
(11) 3643-2906
(11) 3643-2919