All News
Press Releases
• October 19, 2022
Braskem Partners to Help Bring a New Community Recycling Center to the Borough of Marcus Hook, Pennsylvania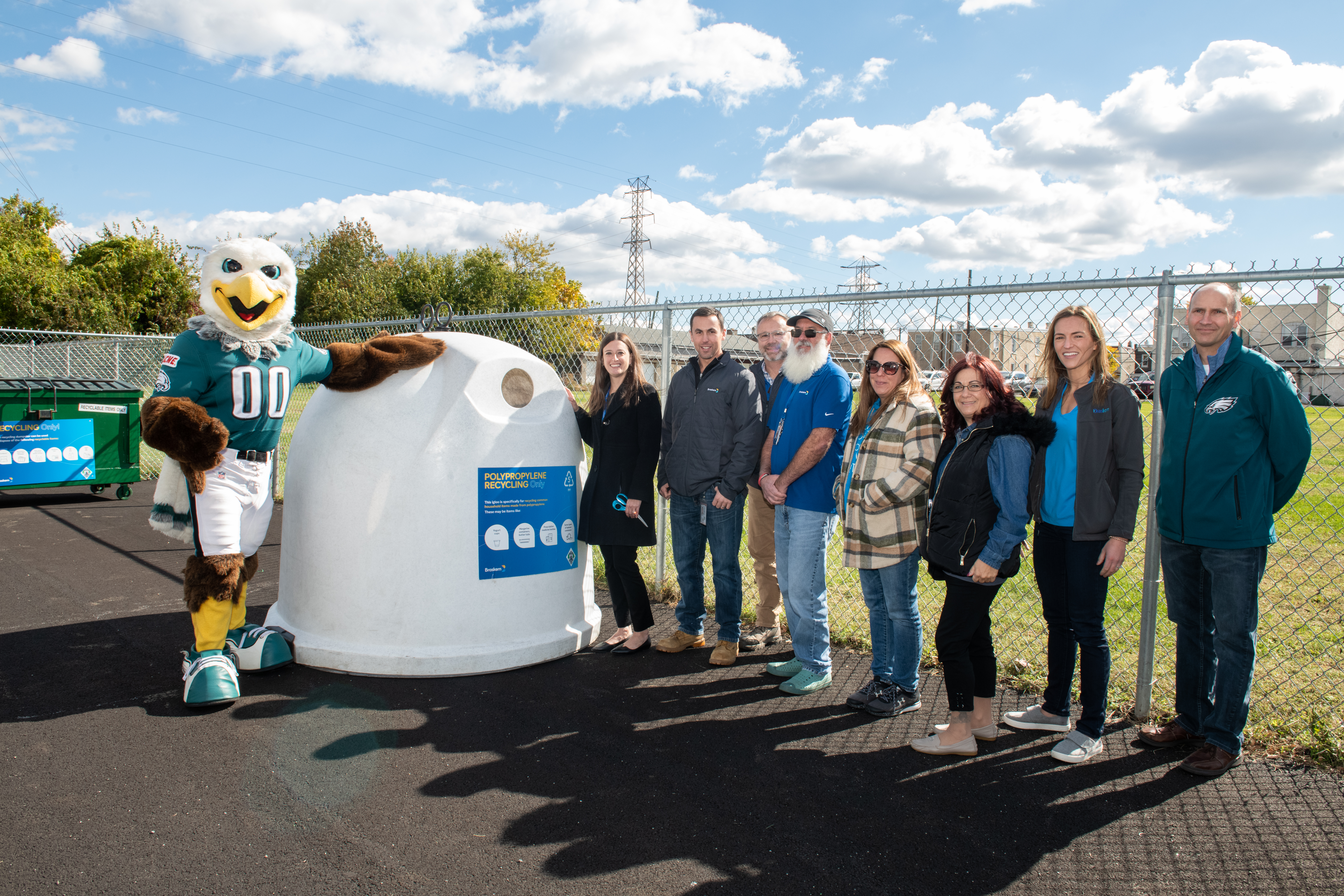 Philadelphia, Pa. - October 19, 2022 - Braskem (B3: BRKM3, BRKM5, and BRKM6; NYSE: BAK; LATIBEX: XBRK) the largest polyolefins producer in the Americas, as well as a market leader and pioneer producer of biopolymers on an industrial scale, today announced its partnership and donation to the Borough of Marcus Hook, Pennsylvania to launch a new community drop-off recycling center. The newly launched facility will serve the approximately 2,400 Marcus Hook residents where curbside recycling is not currently available and addresses interest from the community to have access to recycling capabilities for paper, aluminum, glass, polyethylene terephthalate (PET) (#1), high-density polyethylene (HDPE) (#2) and polypropylene (PP) (#5) plastics. Braskem America's participation in the recycling center initiative is in-line with the company's commitment to building a circular economy for plastics as well as its goals related to the elimination of plastic waste.
Braskem America has maintained a presence in Marcus Hook since 2010 with a polypropylene manufacturing facility employing more than 130 team members. Stephanie Whitesell, Braskem America's Marcus Hook Plant Manager, stated "As a long-standing member of the borough of Marcus Hook, Braskem is strongly committed to investing in our Marcus Hook PP production facility as well as the surrounding community. We are honored to play a role in bringing neighborhood recycling to the residents of Marcus Hook and contributing to the advancement of a Carbon-Neutral Circular Economy. Our thanks go out to the Marcus Hook Mayor and the Borough Council for their leadership in bringing this new recycling initiative to reality as well as for their public-private collaboration with Braskem America."
"I'd like to thank Braskem for being a great partner with the Borough of Marcus Hook and for their generosity, we're excited to provide this recycling drop-off center to our residents to help foster a circular economy," commented Gene Taylor, Mayor of Marcus Hook.
A Recycling Drop-off Center inauguration recognition ceremony will be held today October 19 at noon ET at the new Marcus Hook Recycling Drop-off Center, located adjacent to the Marcus Hook Municipal Building at 1111 Market Street. Special guests of the event will include Gene Taylor, Mayor of Marcus Hook, distinguished members of the Marcus Hook Borough Council as well as Stephanie Whitesell, Braskem America's Marcus Hook Plant Manager, and members of Braskem America's sustainability and industrial teams. Additionally, as part of Braskem's joint commitment to sustainability and STEM education with the Philadelphia Eagles, the Eagles team's mascot 'Swoop' will also be present for this recognition ceremony.
Following the Recycling Drop-off Center inauguration ceremony, members of the Marcus Hook community will have direct access to recycling, thus helping eliminate waste otherwise destined for landfills and other traditional waste processing streams. The site will be monitored by video camera to help ensure public safety and has space designated for future expansion based on additional potential community recycling needs.
From promoting plastic circularity to driving the bio-based materials revolution, Braskem is committed to diminishing the dependency on finite resources and reducing carbon emissions while generating a positive impact for a better society. Improving lives at scale, each and every day is our way of showing we believe in change.
Braskem has clearly stated targets for growing the company's recycled content product portfolio to sales of 300,000 tons by 2025 and 1 million tons by 2030. Braskem's transition to a circular economy is deeply rooted in mechanical and advanced recycling solutions. By engaging and investing in partnership with other members of the value chain the company is strengthening mechanical and advanced recycling, overcoming barriers, and ensuring the increased production of high-quality recycled material. All these initiatives are aligned with Braskem's feedstock diversification strategy and its macro goals of expanding the circular economy concept in the plastic chain and becoming a carbon-neutral company by 2050.
To learn more visit https://www.braskem.com/usa/macroobjectives .
Related News