Bridge Educational Foundation Announces Scholarship Partnership with Braskem and Oakland Catholic High School Students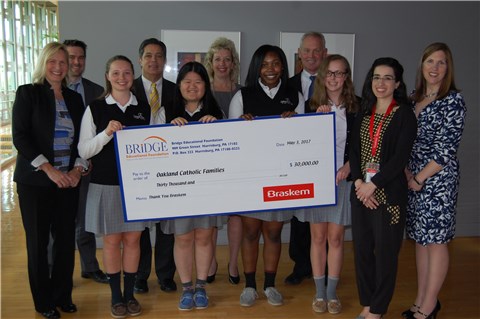 Pittsburgh, PA - (May 3, 2017) - Bridge Educational Foundation announced $30,000 in scholarships to local families through the Educational Improvement Tax Credit (EITC) Program today with Braskem, the benefactor of this award. The scholarships will provide tuition assistance to young women attending Oakland Catholic High School in Pittsburgh. The announcement was made at Braskem's Innovation and Technology Headquarters in Pittsburgh. Oakland Catholic HS students, school officials and State lawmakers including Senator Jay Costa, Representative Mike Turzai and Representative Jake Wheatley attended the announcement to show their support for Pennsylvania's EITC Program.
During the scholarship presentation, the Braskem leadership team spoke to the Oakland Catholic students about the opportunities for young women who pursue careers in science, technology, engineering and math. The students had the opportunity to ask the Braskem leadership team and the elected lawmakers questions about their careers and educational background. The students were given a behind-the-scenes tour of the Braskem Innovation & Technology Center in Pittsburgh which serves Braskem clients by supporting the development of innovative solutions for petrochemicals and thermoplastic resins as well as improving existing processes, technology and products.

Leslie Bockman, Product Technology Leader of Braskem America commented, "Braskem is honored to be the benefactor of this donation to the Oakland Catholic High School through the Bridge Educational Foundation. This donation will provide opportunities for the young women of Oakland Catholic to reach their full potential. We also enjoyed talking with these young women about the opportunities available to them in STEM (Science, Technology, Engineering and Math) and hope this further inspires them to pursue STEM as they advance their educational careers,"

"Oakland Catholic High School is committed to ensuring that the academic and extracurricular experience we provide is accessible to any young woman in this region who qualifies for acceptance. Nearly 40% of our student body receives some level of financial assistance. The EITC commitment of companies like Braskem have a significant impact on our ability to furnish the financial assistance necessary to maintaining a student body that is diverse across many levels," remarked Mary Claire Kasunic, President of Oakland Catholic High School.

Kasunic continued, "Oakland Catholic High School's mission is to educate young women from across our region so that they develop into the next generation of competent and ethical female global leaders. By providing a rigorous academic foundation in both the sciences and the humanities, we strive to empower our students with global awareness, technical competence, and presentational skills that will equip them with the ability to lead. By fostering individual spirituality, we infuse our students with a sense of their obligation to use their intelligence and competence for the greater good."

"Technology has advanced further than many of us ever dreamed possible and is being used to change and save lives," State Senator Jay Costa (D-Allegheny) said. "These scholarships aren't just opening doors for our kids, they're providing for the future health and vitality of the world. There's nothing more exciting than that. To be part of something that gives a child the chance to develop their skills and interest for a career in one of the STEAM fields - that's innovation at its finest!"

"The EITC program is a critical component of our education system in Pennsylvania. By allowing parents to choose what is best for their children, this program ensures students of all backgrounds are afforded a quality education," said House Speaker Mike Turzai (R-Allegheny). "I am grateful to EITC ambassadors, like Bridge Educational Foundation, which continues expanding educational opportunities for Pennsylvanian."

Natalie Nutt, Executive Director of the Bridge Educational Foundation offered, "Pennsylvania's EITC Program has connected businesses, like Braskem, with their future workforce for more than a decade. Braskem's EITC scholarships are providing educational opportunities for students that may not exist without scholarship assistance."

The scholarship donations announced today are part of the K-12 EITC Program. The K-12 EITC tuition program provides companies with a 75 percent tax credit - 90 percent for a two-year commitment - for funds donated to approved, non-profit scholarship or educational improvement organizations businesses may donate up to $750,000 per year though the K-12 program.