Braskem Congratulates Green Dot Bioplastics on Being Awarded the Bio-Based Product of the Year (Americas) 2017
Green Dot Bioplastics recognized for development of an innovative bioplastic composite utilizing Braskem's I'm greenTM biopolymer and natural corn fibers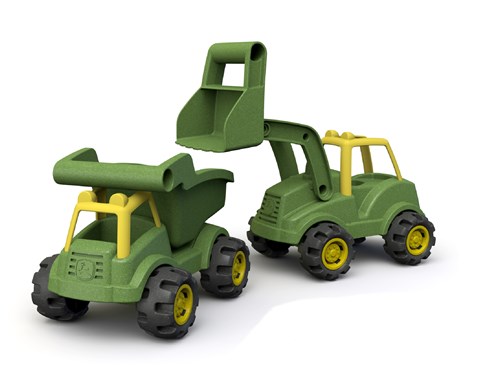 Braskem, the largest thermoplastics resins producer in the Americas, today congratulates the Green Dot Bioplastics team for being awarded the Bio-Based Product of the Year (Americas) 2017 by Bio-Based World News. Green Dot Bioplastics was recognized for their innovative use of bio based plastic for the BeginAgain line of John Deere Eco-Rigs toys at the second annual Bio-Based Live conference. The event provides an interactive environment to facilitate making bio-based innovations a key part of future sustainable strategies for chemical companies and consumer brands alike.
Green Dot Bioplastics CEO, Mark Remmert commented on winning the Product of the Year title, "We're honored to receive this award in recognition of our work with BeginAgain Toys and Braskem. We would like to extend our thanks to Bio-Based World. Every day we work with product designers and brand owners to make the products that consumers use and love more sustainable."
In looking for a more sustainable solution for their John Deere Eco-Rig line of toys, BeginAgain called upon Green Dot Bioplastics to formulate a creative solution for a bioplastic composite. The Green Dot team developed an innovative new bio-based plastic, leveraging corncob fibers from corn harvested by the very same equipment the toys are meant to portray and combining the corn fibers with Braskem's 'I'm greenT' bio-based polyethylene.
Marco Jansen, Renewables Director for North America and Europe at Braskem, commented, "Braskem congratulates the entire Green Dot Bioplastics team on this important recognition of their innovation in creating new sustainable bioplastic composites that address the rising consumer demand for more environmentally friendly products that ease society's reliance on non-renewable resources and reduce the creation of greenhouse gases. We are proud to partner with Green Dot and look forward to continuing to find ways to support the development of smarter, performance enhancing bioplastic alternatives."
Michele Jalbert, a member of the Bio-Based Innovation Awards (Americas) independent judging panel commented, "Bio-based World News is constantly curating great examples of bioeconomy innovation in their reporting, so the competition is pretty fierce for these annual awards, highlighting the 'best of the best' from across the Americas."
Braskem's I'm greenTM Polyethylene (PE) is a bio-based resin made fromsugarcane, a renewable and sustainable resource produced in Brazil, a drop-in substitute for conventional polyethylene. Cultivation of sugarcane utilizes carbon dioxide (CO2) and releases oxygen (O2), which means I'm greenT Polyethylene has a negative carbon footprint. For more information about Braskem's I'm greenTM Polyethylene (PE) bio-based resin please visit: http://www.braskem.com/site.aspx/plastic-green
ABOUT GREEN DOT BIOPLASTICS: Green Dot Bioplastics LLC is a bioscience social enterprise and full-service bioplastics company dedicated to delivering the very best of sustainable materials to its customers. Headquartered in Cottonwood Falls, Kansas, Green Dot is committed to improving our environment through material advances. We believe that through the research, invention and creation of renewable, biobased resins, we can make actual improvements in peoples' lives by putting less stress on the planet. Through a variety of properties- recyclability, compostability, sustainability- we believe we can make plastics a part of the solution, not the problem. That's the thinking behind our Terratek® line of bioplastics, developed to meet growing demand for biobased and compostable materials with fewer of the drawbacks associated with traditional plastics. For more information, visit www.greendotbioplastics.com .
ABOUT BRASKEM: Braskem is one of the world's leading plastics and chemical companies with 41 industrial plants in Brazil, the United States, Germany and Mexico. Braskem is the largest producer of thermoplastic resins in the Americas and the leading producer of biopolymers in the world, creating more environmental-friendly, intelligent and sustainable solutions through chemicals and plastics. Known for innovative solutions such as I'm green PolyethyleneT made from renewable sugarcane and UTEC®, the company's own trademarked Ultra High Molecular Weight Polyethylene for high-performance applications, Braskem's products and technologies enable the automotive, packaging, healthcare, and construction industries to produce goods that enhance quality of life for people around the world. Braskem America is an indirect wholly owned subsidiary of Braskem S.A. headquartered in Philadelphia. The company is the leading producer of polypropylene in the United States, with five production plants located in Texas, Pennsylvania and West Virginia, and a Technology and Innovation Center in Pittsburgh. For more information, visit www.braskem.com .
Contact the Braskem press office:
Cinthia Vargas: (215) 979 5875 | cinthia.vargas@braskem.com
Stacy Torpey: (215) 841 3194 | stacy.torpey@braskem.com