Braskem Helps the AACR Philadelphia Marathon Advance Towards Zero-Waste Goals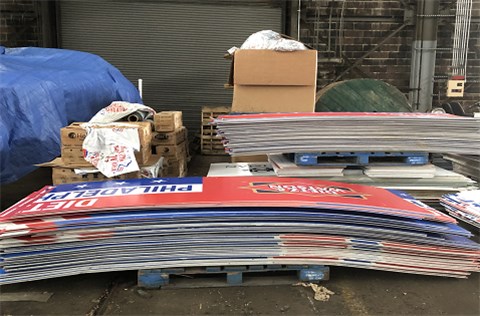 Braskem, the largest thermoplastics resins producer in the Americas and the leading producer of biopolymers in the world, announced the result of its recycling partnership with the 2019 AACR Philadelphia Marathon to help advance the marathon's goal of achieving Zero-Waste event status.
As a direct result of Braskem's innovative recycling partnerships, the AACR Philadelphia Marathon was able to recycle 4,000 pounds of corrugated polypropylene (PP) plastic event signs as well as an estimated 172,800 sq. ft. (the equivalent to 3.97 acres or 3.61 football fields) of Mylar® sheeting from Marathon participants' heat blankets. Prior to Braskem's involvement in the event, these materials were traditionally sent to landfill, but in 2019 Braskem approached the AACR Philadelphia Marathon with an idea to collect and divert new plastic materials from ending up as landfill waste and recycle them into new higher value applications.
Geoffrey Inch, Circular Economy & Sustainability Director, North America commented, "Braskem's commitment to Circular Economy and Sustainability is based on the idea of diverting plastic from landfill, and we were thrilled to partner with the AACR Philadelphia Marathon to advance towards their zero waste goals. Items like the heat blankets are particularly hard-to-recycle because of their design, and Braskem was able to utilize our familiarity with these materials and recycling know-how to effectively collect, reprocess and repurpose this plastic waste into a valuable application that will benefit society. We also recognize that moving to a more circular economy will take partnerships like this throughout the world in the years to come, and Braskem is committed to doing our part."
With support from Braskem's recycling partner, R.J. Evercrest, polypropylene plastic event signs will be recycled and reprocessed into new commercial product applications such as automotive parts, building products, and non-food grade containers approved to use PCR PP (post-consumer recycled polypropylene).
Braskem and its Circular Economy partner The Philadelphia Eagles joined forces to compress the Mylar® sheeting, into compacted bales. The baling process leveraged the Philadelphia Eagles stadium equipment which is used to compress and recycle waste polyethylene (PE) plastic film generated from stadium operations as an extension of Braskem's current recycling partnership with the team. R.J. Evercrest then reprocessed the Mylar® bales, allowing the material to be utilized by Continuus Materials in the production of EVERBOARDT roofing boards. EVERBOARD is typically used in residential and commercial building construction and is fully recyclable at its own end of life. For every 1,000 feet of EVERBOARD installed, it prevents 800 pounds of plastic and 1,200 pounds of paper from being landfilled.
This is the second time Braskem joined efforts with AACR Philadelphia Marathon to support the Marathon's efforts. The Marathon was awarded as an Official Zero Waste Partner - Silver Status - by the City of Philadelphia for 2017 - 2018, achieving a 89.3% waste diversion rate, meaning 9 out of every 10 pounds of waste was recycled, composted, donated, or reused. The Marathon seeks to build on these results to achieve full Zero-Waste event designation, which requires that a total of 90% of waste generated must be diverted from landfills. With 30,000 participants, 60,000 spectators, and 3,000 volunteers this is quite an ambitious goal for advancing sustainable recycling and the circular economy.
Across its own global operations, Braskem has made a commitment that 100% of plastic packaging will be reused, recovered or recycled by 2040. The organization is committed to working around the world with key stakeholders in the value chain, industry associations, academia, NGOs, policymakers and society, to help find solutions to these challenges, including adequately managing the lifecycle of products containing plastics. For more information visit www.braskem.com/circulareconomy .