Braskem, Peel Plastics and Petcurean partner to bring more sustainability to pet food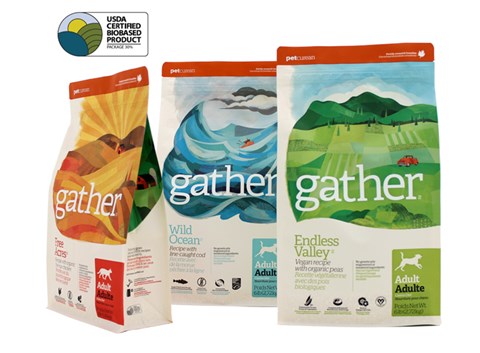 Philadelphia, PA (October 18, 2016) - Braskem, the leading producer of biopolymers in the world, is partnering with Peel Plastics, a leader in innovative flexible packaging solutions, and Petcurean, a family-owned Canadian company that creates premium-quality food recipes for dogs and cats, to launch GATHER, a new line of pet food. Crafted from certified, organic, non-GMO (genetically modified organism) and sustainably sourced ingredients, the GATHER pet food line of products are packed with Braskem's I'm greenTM bio-plastic polyethylene (PE) made from sugarcane ethanol, a 100% renewable source which promotes the reduction of greenhouse gasses.
GATHER dog and cat foods are perfectly blended and balanced to provide pets with premium quality, natural nutrition and are free from rendered or genetically engineered ingredients as well as feature a single source, fresh and dehydrated primary protein. The GATHER recipes include a Marine Stewardship Council (MSC) certified cod recipe for dogs, an organic chicken recipe for dogs and cats as well as a certified Vegan option for dogs featuring organic peas.
"As a company, we've always been committed to providing nutritious, quality recipes for pets using whole food ingredients, and with GATHER, we're taking our commitment one step further by meeting the growing consumer demand for complete responsibility and accountability," said Rick van Schagen, President at Petcurean. "We took the time to seek and find partners whose integrity, transparency and sustainability practices mean we can deliver functional, whole foods from the earth and oceans to keep pets healthy, happy and loving life, as naturally as possible."
Petcurean went the extra mile with GATHER and took the sustainability approach to its packaging as well. The company decided to use Braskem's I'm GreenTM Polyethylene to create USDA certified bio-based bags. "By using bags that are one-third plant-based, Petcurean has reduced its use of petroleum-based resources by 30 percent; for every 16 lb. bag the company makes, it saves close to a 4 lb. bag worth of petroleum-based plastic material," explained Rick van Schagen.
Braskem's green plastic is made from sugarcane ethanol - a renewable and sustainable resource produced from Brazilian sugarcane - and a drop-in biopolymer substitute to conventional polyethylene. Cultivation of sugarcane utilizes carbon dioxide and releases oxygen, which gives the material a negative carbon footprint.
"By using I'm greenTM Polyethylene, Braskem's partners can offer unique products that help lower greenhouse gas emissions throughout the value chain. As the world's leading producer of biopolymers, Braskem is committed to improving people's lives by creating more environmental-friendly solutions forchemicals and plastics," said Gustavo Sergi, responsible for Renewable Chemicals at Braskem S.A..
The GATHER line of pet food is available for order by pet specialty retailers and is on shelves for consumer purchase as of today.
For additional information on Braskem's I'm greenTM bio-plastic polyethylene, product benefits and applications and please visit www.braskem.com/site.aspx/Im-green .

ABOUT PETCUREAN
Petcurean is a family-owned Canadian company that creates premium-quality pet food recipes; GO!, NOW FRESH, GATHER and SPIKE TREATS for dogs and cats (and cats and dogs). GO! provides solutions for your pet's unique dietary needs; NOW FRESH is the only dry pet food to use 100% fresh meat and fresh omega oils; GATHER is crafted from certified and organic ingredients, sustainably produced; and SPIKE lets you reward your dog with treats made using all natural ingredients. Petcurean pet foods are sold exclusively through pet specialty retailers in Canada, the United States, and more than 20 countries internationally. At Petcurean, with every decision they make and every recipe they create, they put pets first. Please visit www.petcurean.com to learn more.

ABOUT PEEL PLASTICS
For over 35 years, Peel Plastic Products has been a recognized leader in flexible packaging solutions and process innovation. Peel manufacturer's custom packaging solutions to complement a number of North America's most recognizable brands. As a responsive supply partner, our products provide solutions that are unique, industry relevant and brand specific. Peel invests a significant amount of time and energy trying to better understand the needs and desires of today's fast moving consumers and brand owners. Peel's commitment to become experts in their core markets makes them a natural extension of your team. Please visit www.peelplastics.com to learn more.

ABOUT BRASKEM
Braskem is one of the world's leading plastics and chemical companies with 40 industrial plants in Brazil, the United States, Germany and Mexico - the company's newest industrial complex is a joint venture with Idesa, which represents a $5.2 billion investment. Braskem is the largest producer of thermoplastic resins in the Americas and the leading producer of biopolymers in the world, creating more environmental-friendly, intelligent and sustainable solutions through chemicals and plastics. Known for innovative solutions such as I'm green PolyethyleneT made from renewable sugarcane and UTEC®, the company's own trademarked Ultra High Molecular Weight Polyethylene for high performance applications, Braskem's products and technologies enable the automotive, packaging, healthcare, and construction industries to produce goods that enhance quality of life for people around the world. Braskem America is a wholly owned subsidiary of Braskem S.A. headquartered in Philadelphia. The company is the leading producer of polypropylene in the United States, with five production plants located in Texas, Pennsylvania and West Virginia, and an Innovation and Technology Center in Pittsburgh. For more information, visit www.braskem.com .

Contact the Braskem press office:
Stacy Torpey
(215) 841 3194
stacy.torpey@braskem.com
Cinthia Vargas
(215) 979 5875
cinthia.vargas@braskem.com