Solegear's good naturedTM Recycling Containers Featured at Sustainable Brands 2017
Solegear and Leading Biopolymer Producer Braskem work together on expanding Solegear's bioplastic products portfolio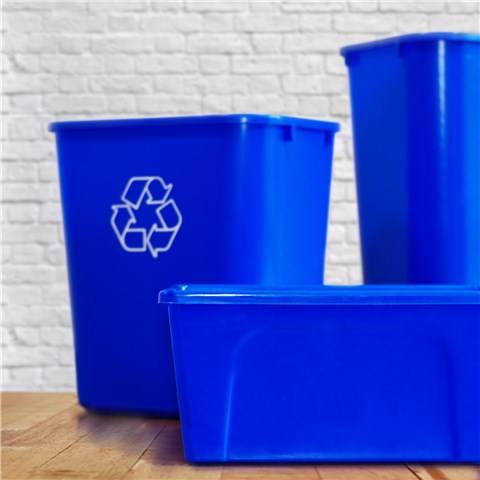 Solegear Bioplastic Technologies Inc. and Braskem, the largest thermoplastics resins producer in the Americas and the leading producer of biopolymers in the world, are pleased to showcase the first product of their partnership to produce and distribute a series of household recycling containers using Braskem's I'm greenTM Polyethylene under Solegear's good naturedTM brand at Sustainable Brands 2017. This year's marquis Sustainable Brands event is being held in Detroit from May 22-25, 2017.
"Solegear has a deep commitment to providing safer, environmentally friendly products for today's consumers who are looking to simplify their lives while making a positive impact on the planet," shared Paul Antoniadis, CEO of Solegear. "Our partnership with Braskem has been instrumental in delivering this vision and illustrates our team's commitment to seeking out the best bio-based ingredients for each application. We're excited to be part of this latest opportunity with Braskem to showcase our good naturedTM recyclers."

Braskem developed its I'm greenTM material from Brazilian sugarcane - a renewable and sustainable resource - to be a drop-in biopolymer replacement to conventional polyethylene. Cultivation of sugarcane utilizes carbon dioxide and releases oxygen, which gives the material a negative carbon footprint. Braskem's analysis has confirmed the environmental impact of using 1 ton of green PE is the equivalent of capturing 3.09 tons of carbon dioxide from the atmosphere from a cradle to gate perspective.
"This partnership has strategic value for Braskem as we believe it will provide us access to new markets and strengthen the company's growth in North America. Using our Green PE in this particular application, to produce household recycling containers, will also allow us to reinforce our belief that we can improve people's lives by creating sustainable solutions in chemicals and plastics," said Gustavo Sergi, responsible for Braskem's Renewable Chemicals team.
For additional information on Braskem's I'm greenTM bioplastic Polyethylene, environmental benefits and applications, please visit http://www.braskem.com/site.aspx/plastic-green .
About Solegear Bioplastic Technologies Inc.
Solegear Bioplastic Technologies Inc. is an innovator in the field of next generation bioplastics made from annually renewable plant-based sources. Committed to the principles of Green Chemistry, Solegear is driven by its mission to create healthier, safer and stronger communities by fundamentally changing the way plastics are made. Solegear's products and packaging are designed to meet today's social and corporate requirements to lower carbon emissions, reduce waste and remove toxicity typically associated with traditional petroleum-based plastics. Together with its partners, Solegear custom engineers, produces and distributes its high-performance bioplastics as resin, sheets and finished goods with some of the highest percentages of renewable, plant-based materials currently available in the industry.
For more information: www.solegear.ca and www.mygoodnatured.com
About Braskem
Braskem is one of the world's leading plastics and chemical companies with 41 industrial plants in Brazil, the United States, Germany and Mexico.
Braskem is the largest producer of thermoplastic resins in the Americas and the leading producer of biopolymers in the world, creating more environmental-friendly, intelligent and sustainable solutions through chemicals and plastics. Known for innovative solutions such as I'm green PolyethyleneT made from renewable sugarcane and UTEC®, the company's own trademarked Ultra High Molecular Weight Polyethylene for high performance applications, Braskem's products and technologies enable the automotive, packaging, healthcare, and construction industries to produce goods that enhance quality of life for people around the world.
Braskem America is an indirect wholly owned subsidiary of Braskem S.A. headquartered in Philadelphia. The company is the leading producer of polypropylene in the United States, with six production plants located in Texas, Pennsylvania and West Virginia, and an Innovation and Technology Center in Pittsburgh. For more information, visit braskem.com.
Contact the Braskem press office:
Stacy Torpey
(215) 841 3194
stacy.torpey@braskem.com
Cinthia Vargas
(215) 979 5875
cinthia.vargas@braskem.com