Scotts® Turf Builder® with Root-TrientsT Raises the Bar in Lawn and Garden Sustainability with Braskem's Bio-Based I'm greenTM Polyethylene Packaging
Integration of bioplastic packaging material derived from renewable sugarcane directly supports Scotts' commitments to environmental sustainability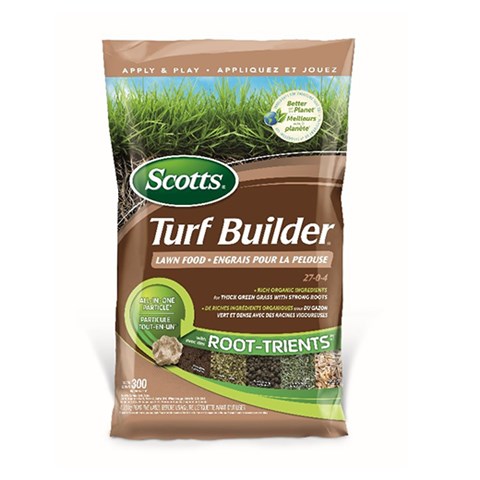 Philadelphia, PA - May 29, 2018 - Braskem, the largest thermoplastic polyolefins producer in the Americas and the leading producer of biopolymers in the world, and Scotts Canada, Canada's leading marketer of branded consumer lawn and garden as well as hydroponic growing products, today announced the launch of the new Scotts® Turf Builder® with Root-TrientsT product packaging that utilizes Braskem's I'm greenT polyethylene (PE) biopolymer. Scotts and Braskem partnered with Peel Plastic Products Ltd. ("Peel Plastics"), to develop this new, more sustainable packaging.
Glenn Martin, Director of Marketing from Scotts Canada, commented, "At Scotts, we see it as our responsibility to continually find ways to improve the environmental sustainability of our products and packaging. This partnership has allowed us to take another step in that direction and we are proud to be the first in lawn and garden to bring this packaging to the market. It also compliments our new Turf Builder® with Root-TrientsT formula which combines our high-performance lawn food with rich organic material in Scotts' patented All-in-One Particle®."
Joe Jankowski, Commercial Manager for Braskem's Renewables team in North America, stated, "Braskem is proud to partner with Scotts as the leading provider of lawn and garden growing products in Canada to improve the sustainability of their packaging, in line with Scotts' overall commitment to environmental protection. By utilizing Braskem's I'm greenT PE, Scotts' is aligning their more sustainable approach to the external packaging with the increased organic content inside the package. Overall, consumers are increasingly looking for products that help reduce their environmental footprint, and we are excited work with Scotts and Peel Plastics to meet that rising demand."
Braskem's I'm greenT Polyethylene (PE) is a bio-based polymer made from ethanol, a renewable and sustainable resource produced from Brazilian sugarcane. I'm greenT PE retains the same properties, performance and application versatility of fossil fuel derived polyethylene, making it an ideal drop-in substitute for conventional oil-based polyethylene. Cultivation of sugarcane utilized in the production of I'm greenT PE captures carbon dioxide (CO2) and releases oxygen (O2), which means Braskem's bioplastic has a negative carbon footprint. From a cradle-to-gate life-cycle perspective, every ton of I'm greenT PE used in the production of packaging equates to 3.09 tons of CO2 captured from the atmosphere.
With 40 years of experience in the lawn and garden market, Peel Plastics has developed extensive know-how in the segment's unique packaging requirements and technologies. The Peel Plastics team worked hand in hand with Scotts and Braskem to design, develop and integrate the I'm greenT PE biopolymer into a new packaging platform that maintains all the performance characteristics required, while delivering a solution that is better for the earth.
Lorne Gelz, Lawn & Garden Category Manager of Peel Plastics, commented, "Peel Plastics is pleased to offer bio-based packaging solutions that support the sustainability goals of businesses like Scotts Canada. Developing Bio-based flexible packaging solutions that can also withstand the rigors of outdoor merchandising is a big win for brand owners, retailers and consumers whom all place greater value on a sustainable packaging footprint."
Scotts® Turf Builder® with Root-Trients T in this more sustainable packaging is available in Canada initially - at major retailers such as Home Depot, Lowe's, Canadian Tire, Walmart, Rona, Home Hardware, Reno Depot and TSC, as well as range of independent lawn and garden centers.
To learn more about Scotts® Turf Builder® with Root-TrientsT lawn food and to find a retail location near you, please visit: scotts.ca
For more information about Braskem's I'm GreenT Polyethylene (PE) bio-based polymer please visit: www.braskem.com/imgreen
Braskem will also be hosting the "Good Materials & Packaging" Activation Hub Pavilion at Sustainable Brands® global flagship event in Vancouver, British Columbia, Canada from June 4 to 7, 2018.
ABOUT SCOTTS CANADA
Scotts Canada, headquartered in Mississauga, Ontario, is a subsidiary of The Scotts Miracle-Gro Company. Scotts lawn and garden products line-up features Canada's favourite brands, including: Scotts®, Miracle-Gro®, Scotts Turf Builder®, Scotts EcoSense®, and Ortho®. The Scotts Miracle-Gro Company is the world's largest marketer of branded consumer products for lawn and garden care. For additional information, visit us at: www.scottsmiraclegro.com
ABOUT PEEL PLASTIC PRODUCTS LTD.
For over 40 years, Peel Plastic Products has been a recognized leader in flexible packaging solutions and process innovation. Peel manufacturer's custom packaging solutions to complement a number of North America's most recognizable brands. As a responsive supply partner, our products provide solutions that are unique, industry relevant and brand specific. Peel invests a significant amount of time and energy trying to better understand the needs and desires of today's fast-moving consumers and brand owners. Peel's commitment to become experts in their core markets makes them a natural extension of your team. Please visit www.peelplastics.com to learn more.
ABOUT I'M GREENT POLYETHYLENE (PE)
Polyethylene is conventionally produced from fossil raw materials such as oil or natural gas and is found in many everyday products: food packaging, cosmetics, beverages, bags, among others. Green plastic, also known as I'm greenT Polyethylene, is a plastic made from a renewable and sustainably sourced raw material: ethanol from Brazilian sugarcane. Green also means that Braskem's I'm greenT PE plastic absorbs CO2 from the air and is recyclable. This means that your cup of yogurt, bottle of shampoo or bread packaging made from Green Plastic helps remove CO2 from the atmosphere, reducing the impact of global warming. The I'm greenT Polyethylene exhibits the same characteristics as the traditional petrochemical-based polyethylene, in application, performance, and especially in the existing recycling collection chain. For more information about Braskem's I'm greenT PE bio-based polymer please visit: www.braskem.com/greenplastic
ABOUT BLUEVISION
Braskem's Bluevision is a platform that shows the capacity of the human being to actively and positively influence the course of the planet through their actions and everyday lives. For more information about Bluevision please visit: www.bluevisionbraskem.com
ABOUT BRASKEM
With a human-oriented global vision of the future, Braskem strives every day to improve people's lives by creating sustainable solutions with chemicals and plastics. Braskem is the largest producer of thermoplastic polyolefins in the Americas and the leading producer of biopolymers in the world, creating more environmental-friendly, intelligent and sustainable solutions through chemicals and plastics. Braskem exports to clients in approximately 100 countries and operates 41 industrial units, which are located in Brazil, United States, Germany and Mexico, the latter in partnership with the Mexican company Idesa. For more information, visit: www.braskem.com
Braskem America is an indirect wholly owned subsidiary of Braskem S.A. headquartered in Philadelphia. The company is the leading producer of polypropylene in the United States, with six production plants located in Texas, Pennsylvania and West Virginia, an Innovation and Technology Center in Pittsburgh, and a new operation in Boston focused on leveraging groundbreaking developments in biotechnology and advanced materials. For more information, visit: www.braskem.com.br/usa
Contact Scotts Canada Contact:

Glenn Martin

(905) 814-2825 | glenn.martin@scotts.com

Karen Stephenson

(905) 814-2828 | karen.stephenson@scotts.com
Contact Peel Plastics press office:

Lorne Gelz

(905) 456-3660 | lorneg@peelplastics.com
Contact Braskem press office:

Stacy Torpey

(215) 841 3194 | stacy.torpey@braskem.com

Cinthia Vargas

(215) 597 5875 | cinthia.vargas@braskem.com