Braskem closes new long-term deal to buy solar power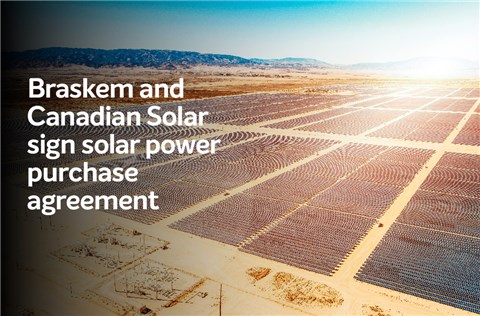 São Paulo, June 29, 2020 - Braskem announces to the Brazilian market another long-term power purchase agreement involving renewable energy, this time with Canadian Solar Inc. one of the world's largest players in the solar energy industry. The agreement will enable the construction of a plant in northern Minas Gerais state and assures supply for 20 years, which represents another important advance in the company's sustainable energy strategy, in line with its efforts to expand the use of clean and sustainable energies in its operations.
The plant will have installed capacity of 152 MWp, which is sufficient to supply a city of 430,000 people. Construction work is scheduled to begin in 2021 and the electricity generated will be used by Braskem's industrial units in Brazil. With the agreement, the company estimates the avoidance of 500 tons of CO2 emissions over two decades.
According to Gustavo Checcucci, Braskem's Energy director, "the company's sustainable energy strategy considers constantly striving for opportunities to add value by improving energy efficiency and using renewable resources available to supply our industrial units. The possibility of contributing to the construction of a new solar power park is a decisive factor for ensuring the competitiveness of our business." The agreement with Canadian Solar, like the other agreements recently signed for the purchase and use of renewable energy, helps to advance this market in Brazil, encouraging other companies to follow the same path.
Braskem's partnership with Canadian Solar provides for the use of highly efficient bifacial BiHiKu modules. "Canadian Solar has consolidated a leadership position in Brazil's solar market and continues to innovate by creating new trends. We are very pleased to be partnering with Braskem to offer integrated energy solutions, from solar modules to the development and management of projects and services. We have a long-term commitment to solar energy in Brazil, which remains one of our most important markets," said Shawn Qu, president of Canadian Solar.
Commitment to renewable energy
In March, Braskem announced a partnership with the French multinational Voltalia for the purchase of solar power over the next 20 years, which will enable construction of the Serra do Mel Solar Complex in the state of Rio Grande do Norte with nominal capacity of 270 MW. In late 2018, the company signed an agreement with EDF Renewable for the purchase of wind power for a period of 20 years with an estimated reduction in CO2 emissions of 325,000 tons. Through these agreements with Voltalia and EDF Renewable, Braskem estimates it will avoid around 455,000 tons of in CO2 emissions.
"The world industry is completely transforming from the technological and environment standpoints. Always at the vanguard of these issues, Braskem's corporate DNA incorporates a commitment to the sustainable development of its business and of the regions in which we operate. We have a target to continue making progress in expanding our renewable energy portfolio, reinforcing our role as a national reference in the topic," concluded Checcucci.
About Braskem
With a global vision of the future, guided by people and sustainability, Braskem is engaged in contributing to the value chain to strengthen the Circular Economy. The petrochemical producer's 8,000 team members are dedicated every day to improving people's lives through sustainable solutions in chemistry and plastics. With its corporate DNA rooted in innovation, Braskem offers a complete portfolio of plastic resins and chemical products for various industries, such as food packaging, construction, manufacturing, automotive, agribusiness, health and hygiene, and more. With 41 industrial units in Brazil, United States, Mexico and Germany and net revenue of R$52.3 billion (US$13.2 billion), Braskem exports its products to clients in over 100 countries.
About Canadian Solar Inc.
Canadian Solar was founded in 2001 in Canada and is one of the world's largest solar power companies. It is a leading manufacturer of solar photovoltaic modules and provider of solar energy solutions and has a geographically diversified pipeline of utility scale solar power projects in various stages of development. Over the past 19 years, Canadian Solar has successfully delivered over 43 GW of premium-quality, solar photovoltaic modules to customers in over 150 countries. Canadian Solar is one of the most bankable companies in the solar industry, having been publicly listed on NASDAQ since 2006. For additional information about the Company, follow Canadian Solar on LinkedIn or visit www.canadiansolar.com .
For more information please contact:
Maite Lazo Muñoz, Circular Economy & Sustainability Marketing Europe & Asia - Braskem Netherlands BV;
maite.lazo@braskem.com