Braskem included once again in B3 Corporate Sustainability Index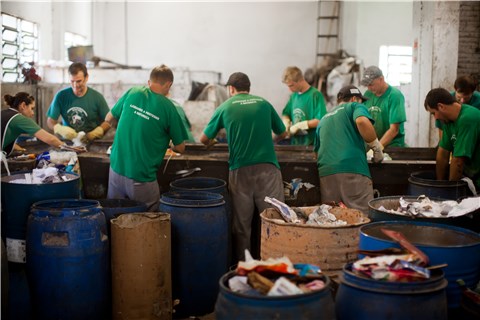 Braskem, the largest thermoplastic resin producer in the Americas and the world's largest biopolymer producer, once again was selected to be part of the group of companies recognized by the São Paulo Stock Exchange (B3) in the Corporate Sustainability Index (ISE) , a portfolio of public corporations that adopt best practices and achieve the best results in terms of corporate sustainability . The Brazilian petrochemical producer has been a component of the ISE every year since its creation, in 2005, which is a feat achieved by only seven companies, of which two are manufacturers (one being Braskem), three are banks and two are energy companies.
Braskem's inclusion reflects its commitment to best practices in social responsibility, corporate governance , financial management and environmental preservation.
Jorge Soto, Sustainable Development Director, explained that Braskem's figuring in such a select group reinforces its main goal of improving people's lives by creating sustainable chemical and plastic solutions. "That is true for our operations and also for the environment around us," said the executive. "One of our main commitments is to contribute to our local communities by offering not only jobs, but also opportunities for a majority of residents through our various projects, which benefit some 200,000 people every year," he concluded.
ISE 2019/2020
The new ISE portfolio comprises 36 stocks of 30 companies that represent 15 industries and total market capitalization of R$1.64 trillion, which corresponds to 37.62% of the total market capitalization of listed companies in Brazil. The index is valid from January 6, 2020 to January 1, 2021.
Pedro Freitas, Chief Financial, Investor Relations, Procurement & Corporate Affairs Officer, said that Braskem aims to become a world reference in the chemical industry for its efforts to promote sustainable development, and being a part of the ISE since its creation, in 2005, attests to that effort. "Braskem's advances during this period is interwoven with those of the ISE. Just like the index, we are a young organization too, created in 2002. So you could say that our achievements drew substantially on our engagement in the ISE. The strengthening of the index's Climate dimension in 2010, for example, coincides with the reinforcement of our corporate strategy on this front. It was in that year that we became the world's largest biopolymer producer," he concluded.
Some of Braskem's social projects in local communities:
Edukatu
Created in 2013 in partnership with the Akatu Institute , Edukatu takes environmental education to public schools nationwide and introduces the students to the concepts of sustainability and conscientious consumerism. We also forged partnerships with Municipal Education Departments in seven cities in São Paulo, Rio de Janeiro and Bahia, as well as with the São Paulo State Culture Department, which has significantly expanded the project's scope. Edukatu has already benefited over 43,000 students and teachers.
Ecobarrier
Ecobarrier, a project in partnership with the Safeweb Institute in Porto Alegre, was created to prevent solid waste from reaching Guaíba Lake. Installed along the Arroio Dilúvio waterway in March 2016, Ecobarrier has been sponsored by Braskem since 2017, which includes support for Environmental Education projects to raise awareness among youth in conscientious consumerism and sustainable post-consumerism. Since its launch, Ecobarrier has prevented 475 tons of waste from being discharged into the lake, or an average of 180 tons per year. Studies on the waste collected from the waterway show that only 8.2% of the material collected was plastic, of which around 20% can be recycled.
Honey Fishermen
In partnership with Uniprópolis, the project teaches honey production and hydroponic cultivation to fishermen in four regions of Alagoas state: Maceió, Barra de São Miguel, Marechal Deodoro and Coqueiro Seco. The goal is to create additional income for fishermen during the period each year when fishing is prohibited, to promote social inclusion and to offer technical training. The honey and propolis produced have unique medicinal properties and help strengthen the region's economy.
Ser+
Program that works collaboratively to increase the recycling of post-consumer waste in Brazil, while improving the living and work conditions of recyclable material collectors. To date the program has benefited over 8,700 collectors.