Footwear brand TOMS includes the carbon-negative I'm green bio-based EVA from Braskem in earthwise, a collection rooted in earth-friendly materials and processes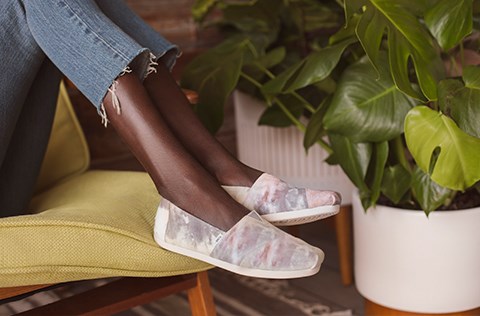 Rotterdam, 3 August 2020 - According to the UNEP1, the fashion industry makes up for 10 % of global greenhouse gas emissions - more than international flights and shipping combined. TOMS has committed to reduce its carbon footprint by 2025, and this already starts with the choice of resources and materials for production.
In footwear, a major component of the outsole is EVA, a substance that makes for a rubber-like texture and warrants durability. As conventional EVA derives from fossil fuels, it contributes to carbon emissions. In contrast, Braskem's I'm greenT bio-based EVA is made from biofuel obtained from sugar cane. This highly efficient crop is carbon-negative: Sugar cane consumes CO2 and extracts clean oxygen. I'm greenT bio-based EVA is the first earth-friendly alternative to conventional EVA that also offers the same comfort and longevity.
Given its commitments, TOMS is excited to add the innovative I'm greenT bio-based EVA from Braskem to its framework of earth-friendly materials and presents new earthwiseT -styles featuring the carbon-negative EVA. One of these styles is the tie-dye plant dye capsule - a shoe that already features earth-friendly elements in most of its components: Apart from the outsole being made with I'm greenT bio-based EVA, the TENCELT Lyocell lining is dyed through a chemical-free process using botanical pigments, and the Ortholite insole comprises of 26 % eco content. These components make the tie-dye plant dye the go-to earth-friendly style of the Fall / Winter 2020 season.
The capsule will be available for women in grey multi tie-dye and pink multi tie-dye at £ 44 at our wholesale partners as well as our online store toms.co.uk/earthwise from July 2020. For more information on sustainability at TOMS, visit toms.co.uk/environment and @tomseurope.
About earthwise
Since TOMS pioneered the One for One® model in 2006, we've had a singular mission: using business to improve lives. Of course, in addition to giving shoes and impact grants, improving lives also means taking care of the place we all call home.
That's why we created earthwiseT - products that are rooted in earth-friendly materials and processes. We like to think of earthwiseT as a work in progress. A challenge. An opportunity. And as we continue to improve - whether that means more zero-chemical processes or new and innovative materials - so too will earthwiseT.
About TOMS
As the Original One for One Company, TOMS has always been in business to improve lives. Since we first launched in 2006, our community has impacted nearly 100,000,000 lives.
Today, we give 1/3 of our profits to organizations around the world that are working to create positive change. That means that for every £3 we make, we give £1 away-both in the form of shoes for those in need as well as impact grants to fuel meaningful work.
This is our commitment-to our partners, to our community, and to our future.