Our I'm greenTM EVA is a key component of PUMA's more sustainable footwear models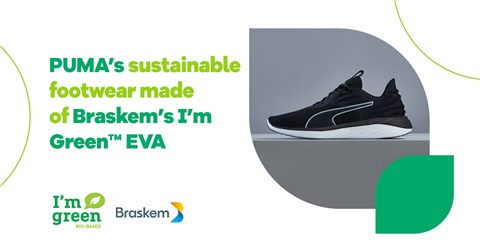 PUMA, one of the world's largest sporting goods manufacturers, is looking to increase its use of more sustainable materials in production, reducing the carbon footprint of its products as much as possible. Braskem is part of this strategy, because with our I'm greenTM EVA made of sugarcane, we provide PUMA with an important raw material in the development of sustainable plastic elements in their products.
The result is "Better Foam," a PUMA-developed midsole based on 35% sugarcane-based I'm greenTM EVA that will be used in footwear products starting this summer. It will start with the "Emerge" model, a training shoe that will be available on July 1st.
The "Emerge" is part of PUMA's plans to use more sustainable materials in 9 out of 10 products by 2025.
So Braskem will be supporting PUMA with I'm greenTM EVA - and for good reason. Our I'm greenTM EVA is specifically suited for products like footwear and sporting goods: It delivers the same flexibility, lightness and resistance as the usual plastics used, and offers a negative carbon footprint to boot. This is because the sugar cane used is both renewable and absorbs carbon as it grows.
It's another important step for Braskem into the sports world. Our plastic is receiving more and more attention in the sporting goods industry and, in addition to the current one with PUMA, is allowing us to build many successful partnerships in this segment.