Another way chemistry can improve people's lives.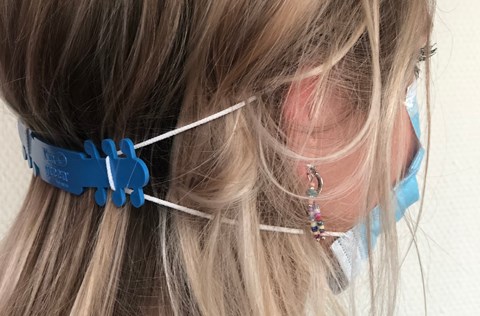 From the moment the world began to deal with COVID-19, the face-mask became the worldwide symbol of the pandemic. Most have come to terms with it, but nobody really likes it. While they seem to inhibit interaction and free expression, the main reason for their unpopularity is how uncomfortable they are, especially when worn for long periods of time. Ironically, masks are a particular burden for those who continue to do the most important work in the pandemic: hospital and nursing staff.
For this reason, last year we entered into a cooperation with Biopromotions and Hulptroepen Alliance to donate over 150,000 so-called mask "straps" to frontline medical staff in the Netherlands and Germany. They are made from our I'm greenT polyethylene and make wearing masks much more bearable.
The straps are a small but effective development by Biopromotions, a Dutch company specializing in developing and manufacturing customized products with natural raw materials that are renewable or bio-based. Made from our sugar cane based plastic, the mask straps take the pressure off the ears and make wearing the masks for a longer period of time much more comfortable. The innovative design allows everyone to quickly find their own appropriate wearing position, giving them one less thing to worry about as they fight to save lives during the pandemic.
In total, over 150,000 mask straps were produced to do something good for those who work so hard every day. And these were the ones the donation should reach at the end of the day. Together with Hulptroepen Alliance, we succeeded in accomplishing this. Hulptroepen Alliance is an NGO, that, together with partners, developed a non-profit supply chain for personal protective equipment at the time of COVID-19. This way we could ensure that our mask straps were really distributed to the hospital and care workers in the Netherlands and Germany who are fighting the pandemic for us every day.
Thus, this is one of our contributions to the fight against COVID-19, focusing on what we do best: Making people's lives easier through products made from sustainable plastic.