Braskems MedcolTM portfolio does also include bio-attributed PP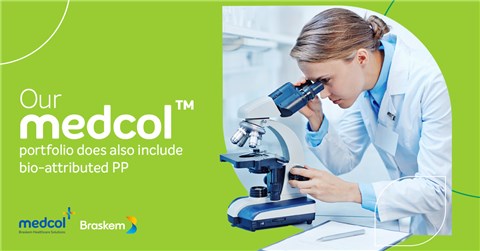 Rotterdam, 30th of September of 2021 - Braskem, one of the most innovative and successful petrochemical companies in the world, has launched MedcolTM, a pioneering portfolio of PP grades for the healthcare sector: optimal in terms of stability and quality, as well as in terms of increasing requirements towards sustainable solutions in the healthcare industry. This has now been extended: Braskem's MedcolTM portfolio is growing and has included bio-attributed PP - ISCC-verified and more sustainable.
The healthcare industry places very high demands on plastics and their manufacturers. In addition to quality and stability, the focus is also on meeting regionally different predefined standards. Braskem has managed to build up a portfolio with MedcolTM that meets, if not exceeds, all these demands. This has been achieved primarily through close cooperation with leading companies within the healthcare sector, which has resulted in highly specific and high-performance products, including from now on bio-attributed PP.
There is hardly any other area in which plastic is currently as indispensable as in the healthcare sector. Especially in terms of hygiene, stability and weight, plastic is without alternative. However, as a result of the large amount of disposable packaging alone, huge amounts of plastic waste are produced every day. Many companies in the healthcare sector as well as hospitals are looking for ways to avoid this waste or to use greener alternatives in order to optimize their carbon footprint. With Medcol'sTM bio-attributed PP, Braskem is offering just that solution.
In order to get to bio-attributed PP, fossil, recycled and renewable feedstock is being mixed in the existing systems and machines while keeping track of their quantities and allocating them to specific grades with an ISCC certification. That means that traceability along the supply chain and compliance with environmental and social standards are guaranteed. Companies in the healthcare industry can therefore be sure to get the right product for their needs with MedcolTM bio-attributed PP. For more information, email medcol@braskem.com.
About Braskem
With a global vision of the future, oriented towards people and sustainability, Braskem is engaged in contributing to the value chain in order to strengthen the Circular Economy. Its 8,000 team members dedicate themselves every day to improving people's lives through sustainable solutions in chemicals and plastics. With its corporate DNA rooted in innovation, Braskem offers a comprehensive portfolio of plastic resins and chemical products for diverse industries, such as food packaging, construction, manufacturing, automotive, agribusiness, health and hygiene, and more. With 40 industrial units in Brazil, United States, Mexico and Germany and net revenue of R$52.3 billion (US$13.2 billion), Braskem exports its products to clients in over 100 countries.
For further information, please contact:
Braskem Press Contact:
Eduardo Ramos
e-mail: eduardo.raomos@braskem.com
Phone: +31 06 2141 0188