Together with Merveyl, we make hotel slippers in a new format - renewable and reusable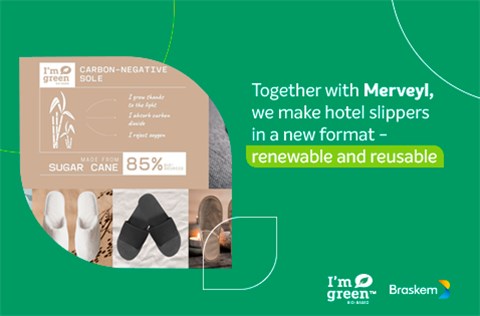 This partnership enables hotels to significantly reduce their carbon footprint through flip-flops made from our I'm greenTM EVA.
Merveyl, experts for customizing hotel accessories for independent hotels and hotel chains such as toiletries, accessories and amenities for almost 30 years, are increasingly transforming their range into a specific selection of bio-based or proportionally bio-based products. Their goal is consequently to enable a smooth transition to sustainable hotel accessories. However, they face major challenges in doing so: Maintaining the well-known high quality of Merveyl's products despite sustainable products, while also meeting the pricing requirements of the hospitality industry.
For this reason, they formed a partnership with us. Together, we developed a collection of neutral bio-based slippers and tongs, which is already in production and will be available in Europe from end October 2021.
This is a partnership, very important for the sustainability of the hotel industry. Around the world, guests are provided with countless disposable products during their visit. Mainly due to hygiene, reusable alternatives are often not possible - especially in these current times. However, the vast majority of these are made of oil-based plastic and have a high carbon footprint. This is where Merveyl and we come in with our partnership: Together, we developed an 8mm thick and bio-based sole for flip-flops and slippers based on our I'm greenTM EVA. The customizable straps are also made from this plastic. So not only is production CO2 neutral, extra thick sole straps mean the products can be washed and used multiple times.
Our I'm greenTM EVA is completely based on renewable sugarcane, which stores CO2 during the growth phase and the production of the plastic can therefore even achieve a negative CO2 balance. Perfect for Merveyls' goal of gradually switching from conventional EVA to bio-based resin within its entire production line of personalized and neutral footwear. And also perfect for the environment: Merveyl has calculated that each hotel ordering 50,000 pairs of used bio-based flip-flops (equivalent to the annual consumption of a SPA hotel with about 150 rooms) could reduce its carbon footprint by 14 tons. This is the same as the footprint of 14,000 cars driven for a year.