World Environment Day 2021: Collecting garbage for a better environment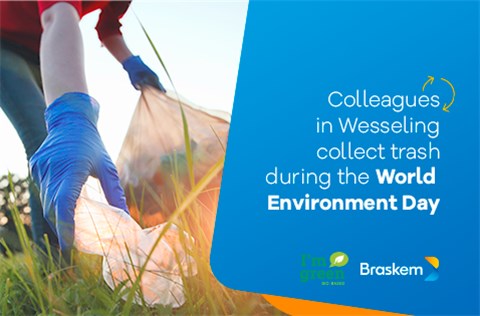 The United Nations World Environment Day has been held every year since 1974, and every year there is a motto to motivate us to take action to protect the environment - even if only on our own doorstep. This year's motto "Restoration" was taken to heart by our colleagues at our plant in Wesseling, Germany. On June 7th, a team of volunteers collected discarded trash along the access road to the plant.
In 2019, a similar trash collection campaign in Wesseling was a complete success and therefore it was now repeated in 2021, after a break in 2020 due to the pandemic. Our team members from Wesseling were eager to get to work and collect all the garbage along the Rodenkirchener Straße, which was then collected and disposed free of charge by the road construction authority in North Rhine-Westphalia, "Straßen.NRW".
With this inititative, our colleagues did not only take care of the environment, but provided their part to our safety. Trash lying around poses a risk at all times and, especially in the Rodenkirchener Straße, can endanger the safety of team members on their way to work or of delivery companies.
This is an initiative following Braskem's commitment and focus on environmental protection, circular economy and occupational safety. On behalf of all team members worldwide, we would like to thank our colleagues in Wesseling for their commitment and are already looking forward to the next World Environment Day in 2022.