Braskem offers MedcolTM, our solution for the demanding healthcare industry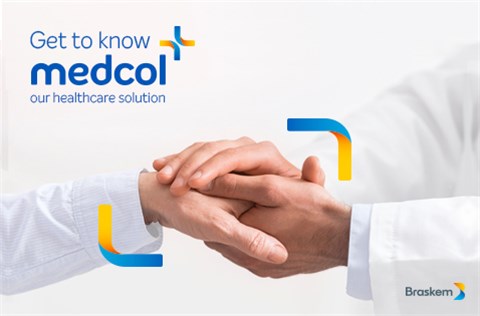 2021 - Braskem, one of the most innovative and largest petrochemical companies in the world, offers a portfolio of products specifically designed for the European healthcare sector under the MedcoTM brand. Developed together with leading healthcare companies, the products do not only cover the high regulatory and quality standards of the healthcare industry, but also satisfy the needs and individual requirements of the sector.
All of Braskem's know-how goes into MedcoTM, not only in terms of stability and quality, but also in terms of increasing requirements towards sustainable solutions in the healthcare industry.
Similar to the food industry, for example, where Braskem's products are already successfully established, the healthcare industry has very high requirements. Factors that must be considered include safe products for end use, consistency of formulation, consistent product quality and security of supply.
The development of MedcoTM focused on meeting these factors, was coupled with the highest material quality and continued attractive pricing. Close cooperation with successful companies from the healthcare industry has helped in this regard. As a result, MedcoTM not only met but exceeded standards and individual needs.
MedcoTM is Braskem's brand for a new portfolio of PP grades developed specifically for the healthcare industry in Europe using the latest formulations. MedcoTM stands for safe products, for the end user as well as for the healthcare industry, for medical devices and for pharmaceutical packaging. In manufacturing, Braskem uses a phthalate-free catalyst technology and tests products according to ISO10993 as well as European and US pharmacopeia standards.
A good example of the high quality of the MedcoTM portfolio is the grade V4020. This is specifically for the blow-fill-seal process and offers very good processability, softness and transparency properties than existing grades for this application. In addition to this, a combination of the latest catalyst technology and less usage of additives makes this grade very safe for the usage in parenteral packaging. For more information on V4020, the entire MedcoTM portfolio or Braskem in general, please contact medcol@braskem.com.
About Braskem
With a global vision of the future, oriented towards people and sustainability, Braskem is engaged in contributing to the value chain in order to strengthen the Circular Economy. Its 8,000 team members dedicate themselves every day to improving people's lives through sustainable solutions in chemicals and plastics. With its corporate DNA rooted in innovation, Braskem offers a comprehensive portfolio of plastic resins and chemical products for diverse industries, such as food packaging, construction, manufacturing, automotive, agribusiness, health and hygiene, and more. With 40 industrial units in Brazil, United States, Mexico and Germany and net revenue of R$52.3 billion (US$13.2 billion), Braskem exports its products to clients in over 100 countries.
For further information, please contact:
Braskem Press Contact:
Eduardo Ramos
e-mail: eduardo.raomos@braskem.com
Phone: +31 06 2141 0188