CHIMEI and Braskem Completes The World's First Shipment of Butadiene with carbon offsets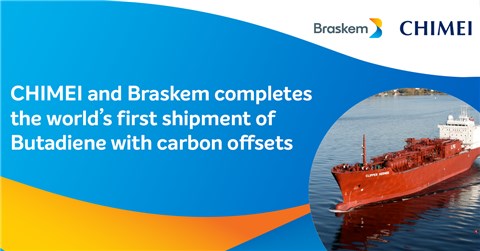 To realize its "Clean & Green" environmental vision and in line with the global trends towards carbon reduction and neutrality, CHIMEI Corporation completed world's first shipment of butadiene with carbon offsets with its butadiene supplier Braskem. The shipment left Brazil on the tanker Clipper Hermod and safely arrived at Anping Port on August 7.
The shipping from Brazil to Taiwan of the CHIMEI butadiene cargo had its emissions offsetted through the retirement of the credits. The credits were sourced from a REDD+ project (Reducing Emissions from Deforestation and Forest Degradation)-the world's largest international forest protection program supported by the United Nations, and the credits are verified by Verra, a nonprofit which administers the world's leading carbon credit standard, VCS (Verified Carbon Standard). The program is estimated to reduce carbon emissions by over 130 million metric tons in total. By contributing to this project, CHIMEI demonstrated its determination to create a low-carbon and sustainable future.
Both CHIMEI and Braskem has always regarded environmental protection as a priority, upholding its "Clean & Green" and "Carbon Neutral Circular Economy" vision, the companies are committed to finding innovative ways to promote green manufacturing and reduce negative impacts on the environment. They are also actively seek to work with partners, suppliers, and clients to contribute towards environmental sustainability.