NEWS ALERT: Braskem wins the Chemical Week's Sustainability Awards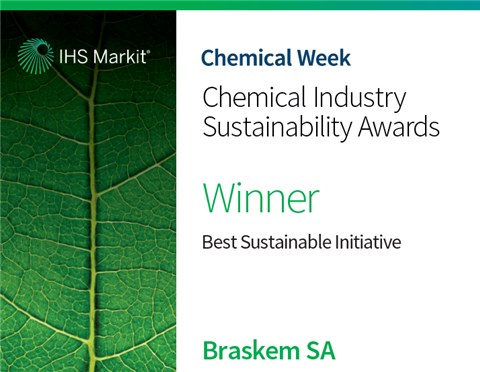 Around 75 entries were received for three categories. The Best Sustainable Initiative award recognizes the overall quality of a company's sustainability-related disclosures, impact of sustainability and environmental, social and governance metrics, transparency and disclosure. The other two categories were Best Sustainable Product and Best Sustainability Program. Each application was scored by a panel of 10 judges with 15 judges in total. Some of the most innovative chemical initiatives were reviewed. The competition therefore gives a lot of insight in the future of the sector through sustainable solutions.
"It's an immense pleasure to be recognized for our ongoing efforts on the low carbon economy in order to fight global warming." said Walmir Soller, CEO at Braskem Europe. "Through our investment in research and development we aim to accelerate the path to the carbon neutral circular economy and the I'm greenTM portfolio is an important lever in this direction."
Braskem is the largest producer of biopolymers worldwide. Just recently they celebrated the 10 year anniversary of the launch of Braskem's I'm greenT portfolio. The plastic, made from sugarcane captures carbon dioxide during the plant's lifecycle, which means Braskem can deliver significant greenhouse gas emissions savings to its customers. In this decade the company's biopolymers avoided the emission of 5.54 million tons of CO2.
About Braskem
With a global vision of the future, oriented towards people and sustainability, Braskem is engaged in contributing to the value chain in order to strengthen the Circular Economy. Its 8,000 team members dedicate themselves every day to improving people's lives through sustainable solutions in chemicals and plastics. With its corporate DNA rooted in innovation, Braskem offers a comprehensive portfolio of plastic resins and chemical products for diverse industries, such as food packaging, construction, manufacturing, automotive, agribusiness, health and hygiene, and more. With 40 industrial units in Brazil, the United States, Mexico and Germany, and net revenue of R$52.3 billion (US$13.2 billion), Braskem exports its products to clients in over 100 countries.