Braskem invests over R$7 million to optimize its Green Plastic production
Paired with other improvements in the company's LCA model, this investment allowed Braskem to reduce its CO2 emissions by 30%.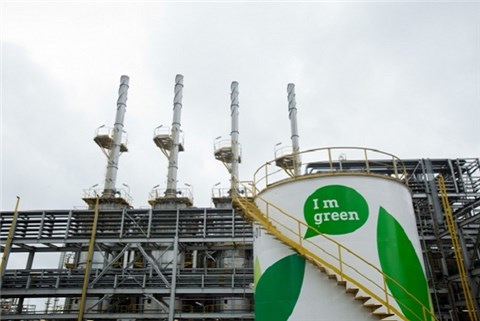 The capture of efficiency gains in the manufacturing process helped Braskem reduce the company's environmental impacts and the carbon footprint of end products. With an investment of R$7.1 million, the equivalent to over US$2 million, from 2013 to 2015 in its green ethylene unit in Triunfo, Rio Grande do Sul, Braskem, the largest thermoplastic resin producer in the Americas, was able to significantly reduce the CO2 emissions generated by its production of Green Plastic.
Braskem automated processes, installed devices to reduce losses, optimized the ethanol vaporization process and reduced the generator's fuel consumption. It also is developing a wastewater reuse system to optimize its consumption of water resources.
"This is a long-term and continuous effort that is aligned with our commitment to sustainable development. Braskem remains focused on operating efficiency in order to capture gains in its processes and competitiveness while reducing environmental impacts in all generations of the plastic chain," said Gustavo Sergi, director of Renewable Chemicals at Braskem.
Along with process improvements, Braskem's concern with environmental impacts requires it to constantly review and enhance its Life Cycle Assessment (LCA) studies. For this reason, the Green Plastic LCA model was also updated with the most recent version of Ecoinvent's database and indicates now a capture of 2.78 tons of CO2 for each ton of resin made from renewable resources. This new number represents an increase in carbon capture from the previous measurement. The study was conducted by the consulting firm ACV Brasil and subjected to a technical review by a panel formed by the Institute for Energy and Environmental Research GmbH (IFEU) and by Michigan State University.
Green Plastic already holds a negative carbon footprint certification issued by the Brazilian Association of Technical Standards (ABNT) in an initiative conducted jointly with the Ministry of Development, Industry and Foreign Trade, which is responsible for implementing the National Climate Change Policy in priority industrial sectors. This result is also related to the model adopted by Brazil's sugar, ethanol and power industry, which in general cultivates sugarcane on degraded pastureland, which helps to recover the soil. Furthermore, ethanol production units use bagasse for power cogeneration, which makes the process energy self-sufficient and generates surplus power that is sold to the national power grid.
Given its business commitment to a low-carbon economy in Brazil and the world, Braskem constantly strives to diversify its feedstock profile with more renewable materials in order to progressively reduce its emissions. In recent years, it has become a signatory to initiatives targeting a low-carbon economy, such as the Open Letter on Climate Change published by the Climate Forum coordinated by the Ethos Institute and with the participation of the Carbon Pricing Leadership Coalition (CPLC) of the World Bank.
Products made using Braskem's Green Plastic can be identified by the I'm greenT seal.
WHAT IS LCA?
The Life Cycle Assessment (LCA) is a technique for analyzing the environmental aspects and potential impacts associated with a product that considers the stages from the extraction of the raw materials from nature that are input into the production system to the manufacturing of the end product. The assessment enables Braskem to gain a better understanding of the environmental impacts of its products throughout its lifecycle. The Company has used the LCA methodology since 2005 and today already has 58 studies in its pipeline. Braskem's data will be available in the next update of Compass, which is a Life Cycle Assessment software, and in the 2017 updates of Ecoinvent and GaBi, two other tools used for the same purpose.
ABOUT BRASKEM
Braskem is one of the world's leading plastics and chemical companies with 40 industrial plants in Brazil, the United States, Germany and Mexico - the company's newest industrial complex is a joint venture with Idesa, which represents a $5.2 billion investment.
Braskem is the largest producer of thermoplastic resins in the Americas and the leading producer of biopolymers in the world, creating more environmental-friendly, intelligent and sustainable solutions through chemicals and plastics. Known for innovative solutions such as I'm green PolyethyleneT made from renewable sugarcane and UTEC®, the company's own trademarked Ultra High Molecular Weight Polyethylene for high performance applications, Braskem's products and technologies enable the automotive, packaging, healthcare, and construction industries to produce goods that enhance quality of life for people around the world.
Braskem America is a wholly owned subsidiary of Braskem S.A. headquartered in Philadelphia. The company is the leading producer of polypropylene in the United States, with five production plants located in Texas, Pennsylvania and West Virginia, and an Innovation and Technology Center in Pittsburgh. For more information, visit www.braskem.com.